A "demand food party that awakens your sleeping gastronomic DNA
A feast of jewel-like seafood found in bright red condiments
The scent of the sea spreads along with the crunchy texture of bean sprouts!
The winter sea is quiet, but the area underneath is more vibrant than ever.
It's because of them!
An octopus that shows off its copper-colored, elastic body and
Charming prawns that fry plump, blue crab full of filling!
And even the famous supporting clams
To fresh, fresh seafood
Add plenty of bean sprouts and spicy condiments to bring out the crunchy texture
A feast of diverse seafood that you can choose and eat according to your taste!
Even magical fried rice that is stir-fried with leftover sauce
A hearty picture of the winter sea
Today's menu, "steamed seafood"
<해물찜 속 맛있는 해물>
'Me the Duck & the Arrogant'
The scent of the sea comes out when you chew it!
What is the identity of the mysterious water held by Meedeok and Omandong?
Meedeok and arrogant dogs that grow by eating plankton in seawater
The seawater sucked in to obtain plankton in seawater is the source of that water!
Value for money "mussels"
Late winter to early spring is the season when mussels are delicious
The white one with the red color is female!
An interesting fact that some male mussels change sex to females depending on the environment
Mussels are as different in flavor as they are in different colors!
Orange mussels are juicy, chewy, and have a strong sweetness
The white mussels are less juicy, soft, and have a slight sourness!
"Tall clams"
Shellfish begin to gain weight in winter and taste best in spring, just before the spawning season
Along with cockles, you can't miss this popular shellfish! "Scallops"
Clams, monkfish, scallops, octopus, blue crab, meedeok, pufferfish, etc.
Enjoy hearty steamed seafood with a variety of fresh seafood!
Well, from now on
What to go before closing the door selected by the Demand Gourmet
Here are some "steamed seafood" restaurants
The first restaurant
Direct delivery from the East Sea every day! Steamed seafood coriander hidden in the alley
'Donghae Seafood' in Gwangjin-gu, Seoul
To fresh seafood without losing the smell of the sea
If you put on a beautifully colored condiment cloth~
Steamed seafood filled with the scent of the sea is amazing!
Steamed flounder that has been lightly steamed with good ingredients and
From seasonal winter delicacies such as moray eel soup and steamed mackerel
A restaurant that makes the most of the flavors of the sea
Donghae seafood that uses express bus courier to pick up fresh seafood caught in the East Sea every morning
The main dish of steamed seafood varies depending on the seafood that comes in that day!
With 11 basic ingredients: blue crab, shrimp, mussels, whole bonito, conch, oysters, abalone, scallops, squid, octopus, and meedeok
A hearty seafood stew with seafood caught that day, such as agu, pufferfish, and octopus
Bean sprouts and vegetables are just girdles, and there are lots of different kinds of seafood!
"Steamed seafood" where seafood is the main character
Crab that contains the whole thing
The flavor of soy sauce crab melts like a blue crab
Take advantage of each flavor of seafood by adjusting the appropriate time according to the ingredients
After cooking the seafood, add bean sprouts and vegetables to the broth
Steamed seafood made by mixing lightly cooked seafood and condiments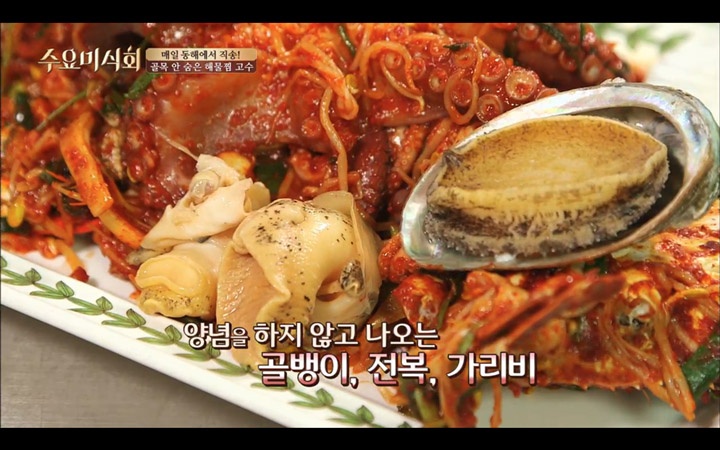 Unseasoned abalone, scallops, and goldfish are perfect on top of the steamed seafood!
"Fried rice," the end of steamed seafood, is the ultimate in savory flavor
Another popular dish, "steamed flounder"
Put flounder the size of a cushion in a steamer and just steam it without putting anything
Squishy yet light steamed flounder
The restaurant's "moray eel soup" and "sandfish cake", which won the heart of gourmet Dongyeop , are also delicacies from the East Sea
Han Joo-pyeong: Fresh and tasty steamed seafood that you won't have to go to the East Sea
Second dining room
A place where you can enjoy steamed bok made from seasonal, chewy pufferfish
'Daebok' in Bukchang-dong, Seoul
A fresh pufferfish that is fully fattened in season
Clean the skin and cook until it becomes immaculate
Lightly coated with bright red sauce
A place where you can enjoy pufferfish dishes with a spicy and chewy texture
From late fall to February!
Now is the perfect time to eat pufferfish, so you can enjoy it even more deliciously at Daebok Restaurant's "steamed pufferfish"
A place where you can enjoy precious pufferfish to your heart's content in a hearty amount
In order not to impair the delicate taste of pufferfish
With lightly cooked vegetables and light and light condiments
This restaurant's steamed bok that makes good use of the natural flavor of pufferfish
Combines the crunchy texture of bean sprouts and buttercups
A place where you can feel the new appeal of pufferfish
If you put pufferfish and condiments on rice, mash it slowly, and grate it, it tastes like honey!
A soy sauce that adds umami to light pufferfish and enhances its rich flavor!
"Bok Clear Soup" made with fat pufferfish and a rich broth made with a variety of vegetables
Boil the first broth for about an hour with green onions, pufferfish bones, radish, anchovies, and red pepper seeds
Add plump pufferfish, bean sprouts, buttercups, and Chinese cabbage to a clean broth with the flavors of each ingredient
If you boil it with salt, you can make a clear soup with a clear yet rich scent of pufferfish!
Han Joopyeong: A place where you can enjoy a variety of pufferfish dishes made from high quality pufferfish
The third dining room
Comprehensive Seafood Gift Set, Steamed Assorted & Sweet!
'Masanok' in Sinsa-dong, Seoul
Feel the scent of the sea with a variety of seasonal, plump seafood
Spicy condiments that go with crunchy vegetables and ingredients that are as hearty as a hearty meal
A place that has been making up Munjeon City for 35 years, with familiar and consistent flavors
Although it is far from the steamed seafood district, this place is already famous among gourmets
It has continued to be famous for 35 years since 1981
A restaurant where the son, the second-generation boss, has continued the family business since 8 years ago
"Assorted steamed meat," a signature dish that makes good use of the soft texture of seafood
Arrogant fish, meadowduck, shrimp, monkfish, blue crab, octopus!
A steamed platter where you can focus on the flavors of 6 kinds of fresh seafood
It's not a condiment made using a special recipe
A house that adheres to traditional methods to preserve familiar flavors
The advantage of the light flavor of the steamed platter is that it is light and you won't get tired of it!
"Fried rice" stir-fried with three parts of kimchi and herbs for a savory flavor
The sticky rice crackers, which give a crunchy texture, are a delicacy!
To a place where you can enjoy "monkfish (liver)" cuisine that may be unfamiliar to Koreans
The chewy texture stimulates the salivary glands of gourmets
Monkfish (liver) reborn by adding flavor with vegetables and soy sauce
A hearty sense of kindness that brings out a lot of precious love is a bonus
As a snack with a soft texture, it is a dish that has received rave reviews from lovers
To make the most of its natural texture and aroma
Masanok's monkfish (liver) cuisine that excludes artificial elements as much as possible
Han Joo-pyeong: A place where you can enjoy a glass of wine in an ordinary space