There are unique cafes, bakeries, and restaurants in a residential area where everyday life is peaceful. Stylish spaces that you can see when you walk through the streets of leather workshops and handmade shoes. Thanks to this, Seongsu-dong is also known as the Brooklyn of Korea. We will introduce restaurants in Seongsu-dong, a popular place in the northeast with a new appeal where leather factories have been transformed into cafes and restaurants.
1. Making proper bread, the 'classic bread'
"Classic bread" takes the name of a patissier one letter at a time and expresses the desire to make bread properly. This bakery is located close to Seoul Forest. The signature menu is "Red Curry," where the top part of a crispy pastry is wrapped in rich Belgian chocolate. "Ampretzel," which combines homemade red bean paste, gourmet butter, and light bread, is also popular. In addition to bread, coffee and drinks are also available, but please note that the store does not have a separate table.
▲Location: 45, Seoulsup 2-gil, Seongdong-gu ▲Opening hours: 11:00-20:00, closed on Mondays ▲Price: Red Curry 2,500 won, Ampretzel 3,500 won
▲Testimonial (Kim Ae-kyo, Shikigami): Red bean curry is famous, so I tried it, and it tasted like a classy mom's hand pie! But it's really delicious.. Also, I ate a freshly made olive stick, and it was absolutely… It's delicious!!! Salty olives.
2. 'Seoul Snack', the scent of fire felt in tteokbokki
'Seoul Snack', located in Seoul Forest, is a small pub that sells food. Ramen or udon mochi sari can be added to the signature menu of "Jikka Bumochi," which has a strong aroma. "Tuna mayo rice balls" and "kimchi shrimp fry", which are sold only for one day, are also popular menus. Please note that beers that can be enjoyed with lunch are available, and there may be waits due to limited space in stores.
▲Location: 102 Wangsimni-ro, Seongdong-gu ▲Opening hours: 11:30 to 22:00 ▲Price: Jikhwa mochi 6,000 won, additional ramen sari 1,000 won, fried kimchi and shrimp 12,000 won ▲Review (Shikigin Apple Pimai Maizeng): Tteokbokki is so delicious!! It's amazingly not spicy and delicious! I also ordered rice balls, so if you pour over the soup and eat them together, they taste like honey ♡
3. Venezuelan bintuba chocolate, 'picoco'
It is a chocolate specialty store that sells Vintuba chocolate, which is directly involved in all processes from cacao beans, which are the raw material for chocolate, to the creation of the finished chocolate bar. There is no chemical treatment, so you can enjoy the honest taste of chocolate itself. At stores that only open at fixed times, you can enjoy today's chocolate and drinks, and you can sample various flavors of chocolate. The chocolate that is prepared may change at any time.
▲Location: 47, Seoulsu-gil, Seongdong-gu ▲Opening hours: 12:00 to 15:00, closed on Sundays ▲Price: Today's chocolate 2,000 won, bar chocolate 12,000 won ▲Review (2nd year student of Shikigami Department of Architecture): It's nice to be able to taste it with a sampler and choose the chocolate that suits your taste.
4. "Onion," reborn from a factory into a cafe
"Onion" is a cafe created by renovating a factory in Seongsu-dong. The cafe has an interior with a different atmosphere for each area, and the overall combination is strangely combined to create a unique sense of style. The bread factory of Yeouido's famous bakery "Bread 05" produces fresh bread every day on the 3rd floor. "Pandor," which is sprinkled with sweet powdered sugar, and "amber," which contains butter and adzuki beans between a crispy baguette, are popular.
▲Location: 8, Achisan-ro 9-gil, Seongdong-gu ▲Business hours: 08:00 to 22:00 on weekdays, 10:00 to 22:00 on weekends ▲Price range: Fandor 5,000 won, Black Crunch 4,500 won ▲Review (Kiyomi Doraemon, Shikigami): Although there are still a lot of people, the bread is delicious, the atmosphere is good, and a perfect place for a date~~
5. French bistro, Lung Pang's
At "Lung Pang's", run by chef Kim Tae-min from the Maison de la category, you can enjoy French cuisine with a focus on à la carte dishes. The most popular menu item is "Mushroom Pasta." You can enjoy the deep flavor of mushrooms by using portobello, mushroom, and porcini powder. The grilled pork loin, which is crispy on the outside and moist on the inside, is also one of the popular dishes. The sweet and sour mango served as a side dish was topped with a little bit of coriander to complete the flavor.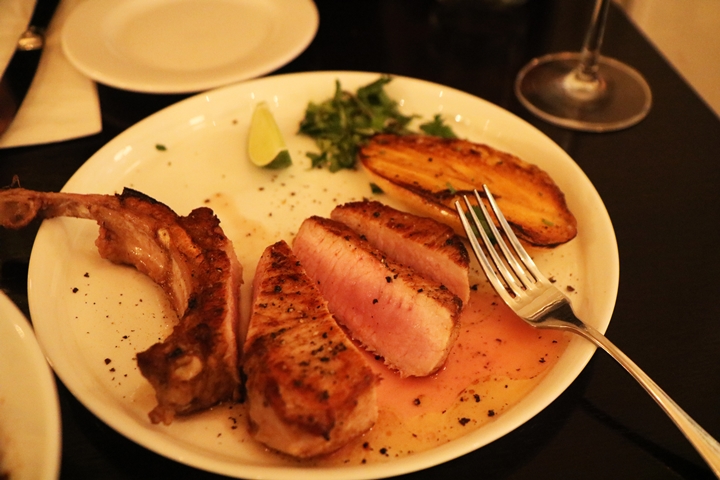 ▲Location: 106 Yeonmujang-gil, Seongdong-gu ▲Opening hours: 12:00-15:00, 18:00-23:00 every day, closed on Sundays and Mondays ▲Price range: Mushroom pasta 20,000 won, steak 36,000 won ▲Review (The curse of seasoned crab): I made good use of the combination of pork and mushroom pasta that you can feel when you grill mangoes in a unique way!
---
If you buy Ark Pub with a Shikigin Dining Card

Beer sampler +up to 3% discount!