A "demand food party" that awakens your sleeping gastronomic DNA
The inside of a golden, crispy ripe skin
Full of rich flavors of the sea!
Prepare the fire
Fresh fish is enough
without any finesse

Created only by meeting fire
The savory flavor and
The appearance of a golden color
What is the appearance of grilled fish on a plain table
It completes the fantasy of elegance.
What is the national fish mackerel
Between the ages of plump and full
It contains moist oil and stimulates appetite.
The chewy and salty oysters that have been slightly dried and grilled
When combined with green tea rice, it's a fantastic match.
What is the light and savory flavor of a juicy yellowtail
Meet spicy condiments
It also creates other flavors.
As a fish meat that contains a deep flavor in tenderness
The pinnacle of flavor on the table that makes a bowl of rice crackle
Today's menu is "grilled fish."
<Why did blue fish become the king of the grill world? >
A blue-backed fish that only comes out of its value when grilled
Affordable and hearty grilled Spanish mackerel
Strong comfort for office workers
Grilled mackerel & Spanish mackerel
The whole thing must be grilled and eaten to be delicious
Grilled goose
Calling for makgeolli
Grilled mackerel
The reason why blue-backed fish continue to be loved
A cheap side dish for rice that is as fatty as meat
Give enough sense of satiety
One smell of grilling
Because it attracts customers
The best laid-back guy to grab a guest's ankle
Also, blue-backed fish
They flock around in groups and are easily caught
Since they are caught all year round, they continue to be loved.
<Why do blue fish have a lot of fishy smell? >
Blue-backed fish are highly active fish
Dark red muscle called hematopoiesis is distributed on the side of the body
What is a blue-backed fish that has a relatively high amount of fat
Because of fat that goes rancid easily
Compared to white fish, it is more likely to have a fishy smell.
<Why is white fish delicious because it's lazy? >
Even the fins and the vagina are elegant
Grilled white fish that is proud of its elegant appearance
Flounder, flounder, halibut, etc.
White fish with lots of paper that lives on the floor
Compared to blue fish
I don't exercise a lot, so I don't have much muscle
When you grill it because it's low in muscle protein
Soft white fish
Therefore, if only the skin part of a white fish is dried well
There is almost no fishy smell.
Selected by the Demand Gourmet Association from now on
Here are some "grilled fish" restaurants you should go to before you close.
The first dining room

A place where you can enjoy grilled mackerel over a briquettes that will keep your heart moist
'Daewon Restaurant' in Yongsan-gu, Seoul
Protected for over 40 years
Consistent taste
Carefully grilled over a briquette fire
Moist grilled mackerel and
My grandmother dressed me up when I was a kid
A side dish that reminds me of a home-cooked meal
The moment you eat grilled mackerel
An influx of happiness and memories
The warm taste of grandma's hands
Grilled mackerel with white rice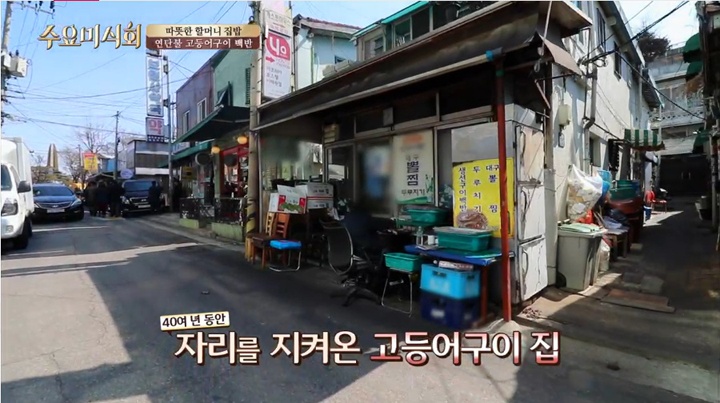 It has held its place for over 40 years
Grilled mackerel to the house

Sit on an old small chair
With a nostalgic appearance
Grandma grilling mackerel
With the same taste for a long time
A place that welcomes customers
What is the best fire for grilled fish
Radiant heat is a big fire.
Briquettes with large heat sources also emit strong radiant heat
It is perfect for making delicious grilled fish.
The outside is a little stiff
Even if it looks clunky
unbelievably
Limitlessly soft inner skin
A moist and soft texture that melts in your mouth
The secret is the aging method.
Sprinkle salt thoroughly and spread it on a grater
If it's aged for just one day
Finished grilled mackerel that is crispy on the outside and moist on the inside
Han Joo-pyeong: The Rose of Betrayal
Second dining room

A place where you can enjoy a variety of grilled fish
Seoul Yeouido 'Dami'
The stylish interior
A place that gives a clean impression
Carefully prepare good materials
Put it on a skewer and sizzle
Make the most of the fish's natural flavor

A grilled fish house that grills
The interior was the same as it was when it opened in '83 and
Fresh fish
Even shelves that can be seen at a glance
A place with a pleasant atmosphere
Sharing a drink after work
A great place to relieve fatigue
What is the first menu
Grilled Spanish mackerel

Crispy baked skin and

From fluffy to soft inner skin
What is the secret to a well-ripened, moist inner skin
With a special fire plate that can only be seen here
Transfer heat to a glass tube
How to cook fish with radiant heat
Catch mackerel at the most delicious time
After freezing,
Throwing salt and grilling just before grilling
Taking advantage of the unique taste and aroma of fish
With an appropriate bain salt flavor
The secret to adding flavor!
What is the second menu
Grilled salmon that has been degreased and grilled to a protein
Soft back meat that melts in your mouth
From belly fat to back fat
Grilled salmon cut lengthwise and grilled

Bake it on the grill and let the oil drain properly
It feels lighter and softer.
I use salmon that has been refrigerated
Something fresh enough to eat as sashimi
This restaurant's grilled salmon is the secret to its deliciousness.
What is the third menu
Mero-yaki that also caught the taste buds of Chopping
Merogui uses the back of the neck and chin at the same time.
With appetizing visuals
Mero-yaki with a chewy texture
Because it is characterized by having light oil
It's delicious when the outside is browned.
A fantastic combination of meroyaki and a glass of beer
Apply a very slight amount of miso sauce
The unique scent is alive and well.
Han Joo-pyeong: Snow fell on my mouth.
The third dining room

With skillfully grilled fish and a glass of sake
A house where you can relax for the day
'Fusion Izakaya' in Hapjeong, Seoul
A vibrant and sentimental atmosphere in a small space
A comfortable hideaway-like space
A place that showcases clunky yet deep flavors
A strange atmosphere as if they were having a secret meeting
Memorable songs that flow from a small space.
An amazing experience that makes you feel like you're in a new world the moment you step in
What is daikon that comes as a basic dish
Put radish in soy sauce broth and cook for a day
Add tuna and condiments and cook for another day
The salty flavor is excellent
The signature menu is grilled sea bream
Because only salt is added to the sea bream's head
Grilled right on the grill
Light grilled sea bream head
Although it has been thoroughly baked, it has a moderately moist and chewy texture

If you order grilled sea bream, it usually takes a little while
The reason for this is on a grill where the fire comes down from above
This is because it roasts for about 30 minutes.
I use sea bream to make grilled food, but
In fact, this place is famous for bream sashimi
Well-aged sea bream sashimi is the best ever, from texture to aroma.
The next menu
Savory and sweet grilled cod roe with miso
What is a caramelized cod grill with a chewy coating
Apply miso paste and let it mature for a day
After washing off the miso paste
If you bake it on the grill
A mysterious combination of savory and sweetness
The skin is as crispy as a snack
Grilled cod with miso and a soft texture on the inside
Han Joo-pyeong: It's Robinson Crusoe's dinner.