@부암동 restaurant Demitasse demitasse
Demitas located in Buam-dong
Just as it feels on the outside, so does the interior
It has a vintage sensibility.
<부암동 맛집 데미타스 메뉴판>
Ordering one menu per person is basic
Carefully with home-cooked food
A little bit because you need to prepare
It's slow food that takes time.
Water and tissues are self-service.
Through Instagram
You can also catch a glimpse of Demitas' news.
Large rice and pasta
It is divided into two categories. 4 each
The menu is organized. Best of them
The menu includes beef chop steak with rice bowl
I ordered fresh cream prawn curry rice.
There is also a menu that includes "weekdays"
Desserts are like mochi roast and soybean flour ice cream
vernacular (?) Menus are ready.
Maid juice and grapefruit aid are also on sale
I must try it next time…
It's pretty famous on Instagram
I thought it would be crowded and there would be a lot of waiting
It was quieter than I thought.
I think it was because the timing was a little early.
According to a recent friend, waiting is quite a bit
Even though it's been a long time… I hope you set the right time zone…
Be sensible with plate settings
Vitamins are also placed.
Salad and kakuteki are also served.
Today's menu has finally come out.
Because it is made at the same time as the order is placed
It takes some time.
Fresh shrimp cream curry rice and
Beef chop steak bowl
Fresh cream shrimp curry rice/ 13,000 won
Soft cream and salty shrimp
It was a menu with a good combination of flavors.
Beef chop steak bowl/ 18,000 won
A menu that combines beef chop steak and grilled vegetables
The quality of beef that is not tough
The flavor of the sauce and the grilled vegetables
It was a well-balanced menu.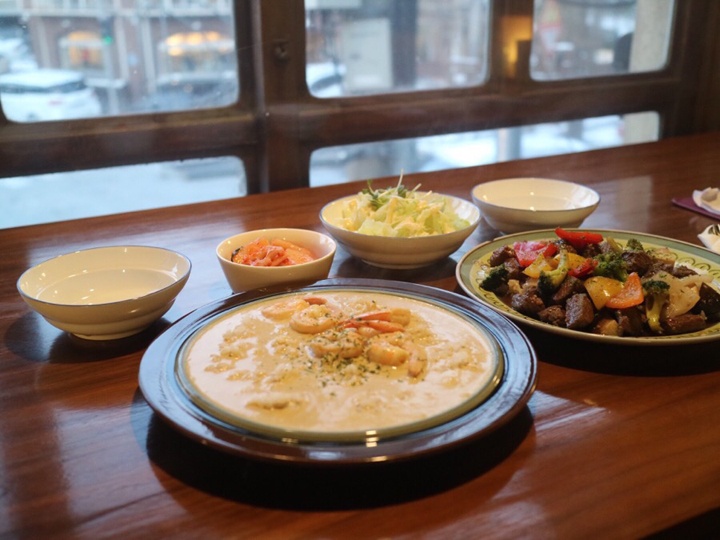 I felt like I was treated with care
Demitas, a restaurant in Buam-dong

<부암동 맛집 데미타스>
Jeongseok Building, 13 Supyo-ro, Jung-gu, Seoul
Taste ★★★★
Price ★★★
Atmosphere ★★★
Special ★★★★
I want to visit again ★★★★
1. A proper meal with a sense of sincerity
2. Both menus were delicious.
3. I'm curious about other menus.
4. I also want to try dessert.
5. Space is limited