A "demand food party" that awakens your sleeping food DNA
A place where you can meet lush nature
Admire the beautiful scenery
If you go up a steep mountain path
Reaching the summit before you know it!
Picture under a cool open sky
The same scenery
What are herbs grown in the mountains
Delicacies full of bitterness and fragrance
Made of well-ripped acorns
Acorn cake with a chewy texture
A great appetizer that enhances the taste buds by adding sweet and sour condiments
Chicken mizutaki is the best way to cheer up after a hike
The combination of rich broth and light lean meat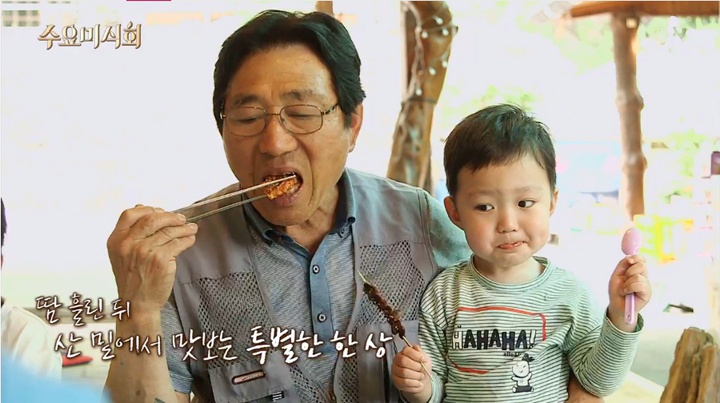 A special treat to enjoy at the bottom of the mountain after getting sweaty
Today's topic is "Hiking Trail Restaurant."
<Why are mizutaki, acorn cake, and wild vegetable teishoku a staple menu at hiking trail restaurants? >
The mountaineering culture became active in the 1980s
In the 1980s, workers were from rural areas
Most people live in rural areas
Scenery of a memorable country house seen while hiking
Therefore, after hiking, it evokes nostalgia for the past
Select hiking trail restaurant menus
Fresh wild plants that are easily obtained in the mountains
Chickens raised freely in the mountains
Use the acorns scattered all over the mountains
Cheaper but freshest
Menus made with supplied ingredients
A true local food restaurant

<지리산의 다양한 음식들>
Come down to the Seomjin River and meet shiraegi crab soup
Come down in time for the 5th day of Gurye
Encounter the warm scenery on a rainy day
Enjoy the delicious food you can find in the market
No matter what, you have to eat Gurye Dasulgi!
Light Dasulgi handmade rice
Dasulgi sauce that strengthens the eyes
Put a dasulgi sauce on the seaweed and throw it in one bite
Dasulgi soup filled with the deep flavor of chunky dasulgi
Selected by the Demand Gourmet Association from now on
Here are some "hiking trail restaurant" restaurants you should go to before closing.
The first restaurant

A place where you can enjoy chicken mizutaki drawn from medicinal water
Juwangsan 'Seoul Inn Restaurant'
A beautiful strange rock formation towering like a folding screen
A place with a spectacular view of a cool waterfall
Juwangsan National Park attracts hikers all year round
Refreshing sweet medicinal water that springs from under Mount Juwang
Light green chicken mizutaki made with medicinal water
A place where you can enjoy sweet and spicy dakmokgalbi
A meal like a gift for me after a hike
A hiking trail that is easy for men and women of all ages to walk
Juwangsan National Park has spectacular views of many strange rocks and deep, beautiful valleys
Mt. Juwangsan is particularly beautiful for hiking in the fall
The main production area with willows that seem to float on water is famous
Dalgi Yusutang, a water fountain near Juwangsan Mountain, discovered during Cheoljong in Joseon
It is characterized by being carbonated medicinal water containing iron
If you boil chicken mizutaki with sweet medicinal water
It is said that the fishy smell is caught and the meat becomes soft
A place full of restaurants that make mizutaki in medicinal water
Inns that used to be shelters for hikers
As the years go by
What turned into a restaurant for hikers
It used to be a place that mainly sold rice cooked with medicinal water
As the supply of chicken improved, they began selling mizutaki mainly
The luxurious scent of mushroom and bellflower
Dark green powder seen on red rice
Put the trimmed chicken, mung beans, and sticky rice in a pressure cooker
If you add sweetened medicinal water and kuji mulberry leaf powder and boil it thoroughly
Transformed into a bright light green mizutaki
Put boiled mushrooms, bellflower, sticky rice, and thick broth separately on the chicken
If you put glutinous rice steamed with chicken and put it in soup
An image of chicken mizutaki, which has an attractive unique flavor
Another menu, chicken mochi galbi
Peel the chicken flesh and mince it gently
Season the soup with garlic, sugar, starch syrup, and red pepper paste
Chicken teok-galbi grilled until golden brown
Tasty chicken mochi galbi
A place for the whole family to enjoy
Han Joo-pyeong: Why do we climb mountains?
Second dining room

The end of the fragrant aroma with gondre rice and refreshing makguksu
A place where you can enjoy the flavors of Gangwon-do
'Soba Village Makguksu' in Jeongseon, Gangwon-do
A house located at the foot of Hambaek Mountain in Gangwon-do
The owner made it with care
Gondre rice, which has a faint scent of gondola
Soba noodles made from dough made every day
Water makguksu that stands out for its light soup
Even sweet and sour bibimmakguksu
A place where you can enjoy a hearty meal of Gangwon Province
Hambaek Mountain is a must-see spot for mountain lovers
Wildflowers are in full bloom from May to June, and it's a popular place to go for wildflower hiking
A great driving course at the bottom of Hambaek Mountain
Hambaek Mountain is great not only for hiking but also for driving
Jeongam Temple, a beautiful temple that can be seen when you descend from Manhangjae
Gondre that doesn't have a strong flavor
Signature menu gondre set meal
Put the gondre on top of the cleanly soaked rice
Cover with sesame oil to add a savory flavor
If you cook rice for about 15 minutes
A faint gondre scent and
A flavor that harmonizes the aroma of sesame oil
Use a rapidly cooled gondre immediately after boiling
Gondre that has been rapidly cooled and has a chewy texture and sweetness
You can enjoy the scent of a gondre by adding plenty of gondre herbs
Pack a full bowl of rice on the gondola
If you mix it with soy sauce and eat it
Even rice crackers that maximize the aroma by pouring zest
Another menu soba makguksu
Two soba noodles with different ingredients
Bibim makguksu with hwangtae vinegar sauce
Chicken broth mixed with dongchimi broth to make a clean and light broth noodles
Mix chicken broth with dongchimi broth to create a subtle and light flavor
Pull the noodles from the dough you make every day
Soba noodles that have been rinsed in cold water several times to preserve their texture
Put the sour sauce on top of the chewy soba noodles
Pour in a light and cool broth to complete the soba noodles

Han Joo-pyeong: A definite presence
Second dining room

A house that has been making hand tofu made in a cauldron for 3 generations
Namhansanseong "Obok Son Sundubu"
Built to defend Hanyang
Mountain castle in the Joseon Dynasty, Namhansanseong
A hiking trail that is easy to walk on
Located at the end of a garden-like hiking trail under Namhan Mountain
A house where three generations, from grandmothers to grandchildren, have been making traditional hand tofu for over 80 years
Fist tofu made with care over a long period of time
Hot tofu hot pot simmered in beef bone broth
A place where you can enjoy your mouth after climbing Namhansanseong
The entrance to Namhansanseong, where various restaurants are located
A place that makes impressive hand tofu
"80 years of tradition" written at the entrance
At the beginning of operation, they only made tofu and delivered it
Switch to a restaurant while serving meals to visiting customers
Signature menu, fist tofu
Fist tofu has been made for a long time
After washing the beans that have been soaked at 7 o'clock every morning
Grind the beans finely to remove the rich soybean paste
After putting a cauldron on a wood fire and boiling soybean water for a long time
If you add soy sauce from Anmyeon-do, the soybeans will twirl
Pour the soybean paste that came up in a circle on the white cotton cloth
After draining the water several times
After 2 hours of aging
When the cloth is removed, it looks like a fist
The name given to it is fist tofu
Another menu, tofu hot pot made with beef bone broth
A serene taste where tofu is the only protagonist
It's a red soup, but it's not spicy and it's savory
Appropriate taste of tofu hot pot without being heavy
From fist tofu and sundubu to gyoza and mushrooms
Add fist tofu, sundubu, kimchi, and vermicelli
After adding shrimp and garlic and various vegetables
After adding gyoza and sauce
If you pour in the beef bone broth that has been simmering all morning
Completed a light and savory tofu hot pot
Sundubu, fist tofu, a hot pot where you can enjoy a variety of tofu
Han Joo-pyeong: The grains are thick