Restaurant "Mani" located in São Paulo, Brazil
One star from the 2017 Michelin Guide Rio de Janeiro and Sao Paulo
"Mani" restaurant ranked 8th in the 2016 Latin America's 50 Best Restaurants Awards.
On the Latin American Awards website, it is featured as a place that showcases Brazilian and European fusion cuisine.
Go to 'Mani Restaurant' store information ▶
The best place to buy in São Paulo (?) "Mani" restaurant located in the Jardim Paulista area, one of the neighborhoods.
The interior space of the restaurant captured while leaving after a meal.
The place I ate on this day was an outdoor space other than inside a building.
The outdoor space feels roughly like this, and it's also a place where I personally felt like I was on a European beach rather than Brazil.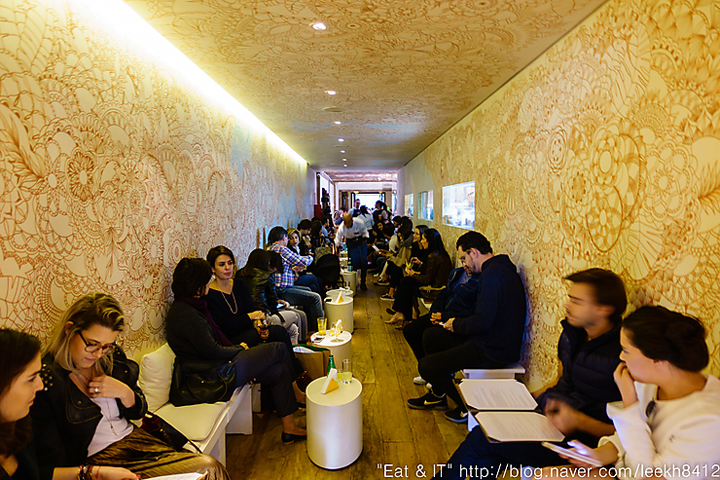 I made a reservation via email in advance, so I was able to get in without waiting…
If you don't make a reservation, you'll have to wait this long in line to eat at this hot spot in São Paulo.
Table setting.
From here on, the "Mani" restaurant's menu and price range.
I
went there at lunchtime, so unfortunately I couldn't order the tasting course… I ordered a 5-course menu as an alternative.
270 reais for one appetizer, two main dishes, and even a dessert (about a little less than 100,000 won)
I need to order bread separately, but… They say they are so confident in their bread that they open and operate a separate bakery next door
I ordered bread for an additional fee.
Bread is.. It was more delicious to eat in Korea hehe, it seems that the bread making technology in Korea is world-class.
Compared to that, the breads I've eaten in Brazil are quite disappointing;
However, probably because it was a country where dairy products developed, the butter and cream cheese that came with bread definitely had a distinct personality unique to Brazil.
This is a bonbon series included in the 5-course menu, with one appearing first.
Three will appear next time.
With pupunha palm, acai berries, cauliflower and cauliflower vinaigrette
I
ordered the menu I chose from the appetizers because I thought the "Marrow" name alone would be something unique.
It is
made by putting marrow (marrow) inside the trunk of a palm tree called pupunha.
The combination of the unique texture of the palm and the flavor that comes from the bone marrow was a wonderful dish.
Plus, the plating, which is expressed as if it were a work of art.
The garnish was served with spinach leaves, mustard sauce, and a sauce made from acai berries, one of the representative ingredients that comes to mind when it comes to Brazil.
"Crayfish moqueca"
The next item I ordered was Moqueca (Moqueca), a traditional Brazilian food
You can think of the food called moqueca as a seafood stew unique to Brazil.
The mokka here is a bit far from traditional, but it must be said that the taste is better.
That yellow sauce is the core of mokka cuisine, extracted from seafood.
And I'm not sure about the exact name, but… It seems like moquecka dishes are always eaten with these three foods.
(A few days later, I went to a restaurant serving traditional Brazilian cuisine and ordered the same moquecas, and these three also appeared at that time.)
"Leg of Lamb Cooked at Low Temperature"
With radish tubers and Brazilian nut farofa
As the
main dish, I ordered lamb along with the mokka just before.
Beef and pork are very common in Brazil, but lamb can't be found unexpectedly easily.hehe
It is made
with lamb, pork, potatoes, various root vegetables, and manjioca powder.
Vegetables produced in Brazil also taste good.
The meat eaten in Brazil also always seems to be true.
Of course I learned this in hindsight, but… It is said that Brazilians also rate Argentinian and Uruguayan meat more highly. hehe
Banana, guarana cauliflower, oat farofa, brown sugar marshmallow,
Strawberry slush and acai berry ice cream
There
are many dessert menus available, but.. My choice in Brazil is always acai berry ice cream.
In fact, it's hard to say that the flavor itself is better than other well-made ice cream, but you can still feel the unique colors of Brazil.
The "Mani" restaurant I experienced on this day seemed like a place that unravels traditional Brazilian cuisine in a modern style.
Overall, the food was very tasty, and I thought the plating level was higher than other restaurants.
The only regret is that the service wasn't enough for a fine dining restaurant.
If you are interested in food, I think this is one of the great restaurants you should definitely visit during your stay in São Paulo