A "demand food party" that awakens your sleeping food DNA
The many transformations of eels that make you feel powerful just by looking at them
Apply seasoning and bake on charcoal until golden brown
An eel bowl with an excellent subtle sweetness
Grilled eel where you can enjoy the natural flavor of eel
The new transformation of the mackerel
Eel shabu-shabu that is pleasing to the eyes and mouth
Even conger eel sashimi that gets more savory the more you chew
Soothes tired palates from the heat
Today's topic is "eel."
<What is the difference between mackerel, conger eel, eel, and hagfish? >
Various names, flavors, and textures
The world of eels
What is the difference between mackerel, conger eel, eel, and hagfish?
Eels live in fresh water, so they are also called freshwater eels
The mackerel that lives in the sea is also called black eel, and in Japan it is called hamo.
Eels that live in the sea
The Japanese expression for conger eel that lives in the sea is anago
Eel is a hagfish
The name pike eel comes from the fact that it clams like a dog
Hamo also comes from the Japanese hamu meaning "to drink"
The most virulent eel in the eel world
Unlike conger eels, mackerel is expensive because of its low catch
Anna, the Japanese expression for conger eel, means hole
The name given by looking at the dotted line on the side
If there's a dotted line, if there's no conger, eel
In the past, if you went to a food stall
Conger sashimi that I enjoyed casually
Conger sashimi that removes moisture and nourishment and is enjoyed lightly
An eel with smooth skin like a snake
Eels that are often eaten grilled
The point of flavor of eels is the fat between skin and flesh
A hagfish with a clear difference from other eels
The name hagfish comes from the degeneration of snow due to life in the ocean
A favorite food in Gyeongsang-do (eel), which is more widely known as bok eel, which is the dialect of Gyeongsang-do
<Are there any domestic eels ? >
Currently, eel farming is a sheep only method where live eels are caught and raised
Live eels usually caught in the Philippines and China
If you look at it in its raw state, there are almost no domestic products
Cheer raised in the country for 6 months or more can be marked as domestic
An eel that goes back from sea to river
Eels live their whole lives in rivers
They go out to sea to hatch, lay eggs, and die
Eels that break from eggs come back into the river
Eels lost their way due to the blockage of the estuary of the river, causing ecological disturbances
<Wasn't eel an aphrodisiac food? >
Originally, eels were not eaten in Korea because they looked like snakes
Eating eel as an aphrodisiac is the Japanese custom of eating eel as an aphrodisiac in the summer
What had an impact on our country
So why do Japanese people like eels?
Japanese people were unable to eat meat even before the Meiji Restoration
However, eels and mackerel have a slightly different texture from other fish
Feels like meat
Eel with a chewy texture
I'm guessing they ate eel as a substitute for meat
Selected by the Demand Gourmet Association from now on
Here are some "eel" restaurants you should go to before you close.
The first dining room

A place where you can enjoy plump tidal eels
Ganghwa-do 'Sunchangjip House'
Ganghwa Island is famous for its beautiful scenery
A place where you can enjoy strong eels raised on the tidal flats
Surprised by the size
Falling in love with its firm and chewy texture
Tidal eel grill house
Ganghwa Island is as famous for its eels as Gochang
The area where the streams of the Imjin River and Han River meet the West Sea
Located in a scenic location with a cool driving course
Opened in '79, the oldest house in Ganghwa-do Eel Town
A place that uses tidal eels raised on the tidal flats for 75 days or more
While growing on the tidal flats, they lose fat
I exercise actively, so it has a nice texture.
After grilling it once on hot charcoal
Strong grilled tidal eel served to customers
Significantly different size from freshwater eels
Tidal eel that is cut as chewy as meat
Seasoned grilling with a different appeal from salt-grilled food
Grilled eel with sauce that doesn't impair the natural flavor
Seasoning sauce that you can dip and eat according to your taste
Various vegetables that are responsible for the crunchy texture and
Add kanzami and boiled eel liver
Mixed with gochujang, red pepper powder, etc.
Eel entrails sauce
Han Joo-pyeong: Is this an anaconda?
Second dining room

A place where you can enjoy mackerel shabu-shabu that melts in your mouth
Incheon 'Makjulae Sashimi'
An eel shabu-shabu restaurant located in a small alley in Incheon
A dedicated owner from Jeolla-do
Cut fresh mackerel from Yeosu to make it easy to eat
Fondant in a rich broth
A place where you can enjoy the natural taste of light and soft mackerel
Seasonal eel
If you just soak it in hot broth
Put the mackerel in the broth and count the heat to finish
Eel that comes out big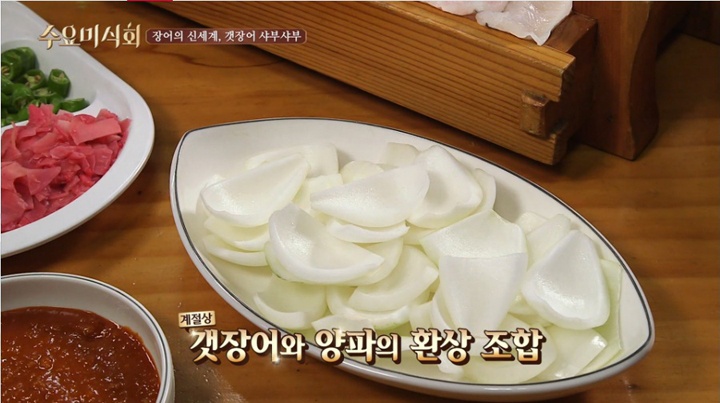 A fantastic combination of mackerel and sweet hat onions
Shabu-shabu with the light and clean flavor of mackerel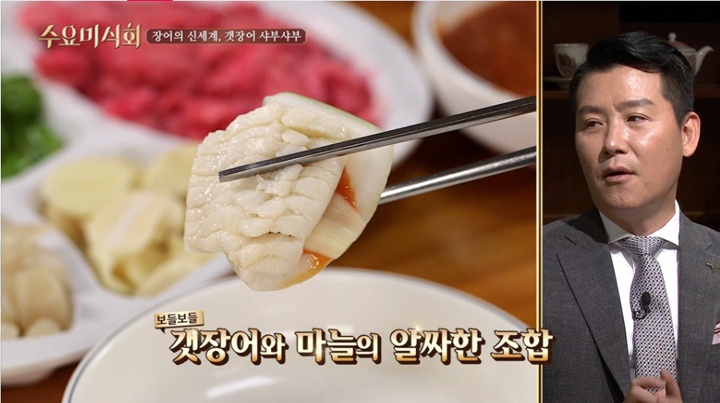 The savory combination of mackerel and garlic is also excellent
What is the shabu-shabu broth
The more eel shabu-shabu you eat, the more intense the flavor becomes
After simmering the bones and head of the eel from Yeosu
Add radish, onion, miso, and clams
After adding the broth
Finally, shabu-shabu broth made by adding chives and simmering it one more time
An amazing broth made by clams that caught the feeling of a mackerel
Luxuriously rich shabu-shabu broth
Shabu-shabu flower udon
Put udon in the broth
Boiled the bobblebog
Chewy, chewy udon with a rich soup
Han Joo-pyeong: Like being hit on the cheek~
The third dining room

A place where you can enjoy soft and springy conger grilled over charcoal
Apgujeong 'Prince Eel"
A hot spot for young people
A place hidden between those alleys
Fresh conger eel brought from Gagedo
Cut the circuit
Enjoy the fun of eating wraps
Bake it on a charcoal fire
Even grilling, which has an excellent light flavor
A place where you can enjoy the diverse flavors of conger eel
A pleasant place from the first impression of the exterior
The boss is from Busan
A restaurant I opened because I missed the eels in my hometown that I've eaten since I was a kid
The boss learned know-how for 3 years at a regular house in Busan
The crunchy texture is excellent
Signature menu conger eel sashimi
Conger sashimi coated with large bones so as not to get caught
Remove all the bones in the middle
After removing the bones from the fins as well
Cut to make it easy to eat
Light and savory conger sashimi
Order conger eel sashimi and sea urchin together
If you put wasabi in dried seaweed and wrap it together
A different combination of sea urchin and conger eel
Another menu, grilled conger eel
Grilled on a gentle charcoal grill
Light grilled conger eel with a crisp texture
Light and attractive grilled conger eel
Just grilling it brings out the original flavor of eel
Saltwater eels usually have more bones than freshwater eels
However, grilled conger eel with well-groomed bones and passed smoothly
The kimchi that comes with it
If you put a piece of well-baked conger eel on top of kimchi, it goes great together
Another side dish, anchovies with green onions
With red pepper powder and vinegar soy sauce
Diced anchovies with green onions
Unlike stir-fried anchovies, you can enjoy a fresh and crunchy anchovy sauce
Han Joo-pyeong: Sesame leaves and conger eel are in the middle of summer fishing