Along with Noryangjin, Shillim is famous for Koshi Village. As a transportation hub in the southwestern part of Seoul, it is close to Sadang, Hongdae, and Gangnam, and many office workers live in Shillim. With the addition of students and office workers preparing for the exam, as well as climbers to Gwanak Mountain on weekends, Shillim is bound to have a large floating population.
Many people usually think of "Sundae Town" when they think of Shillim, but there are many other restaurants in Shillim other than Sundae. Since it is a place where people of different styles gather, I will introduce a variety of restaurants in Shillim.
1. Cost-effective, canned dak-galbi
At Exit 5 of Shillim Station, there is a long line of offal restaurants where you can find Udukoni "Kantong Dak-galbi." The name Gopchang Alley is so obscure that Kantong Dak-galbi's store is full of people inside and outside.
Kantong Dak-galbi is a dak-galbi specialty restaurant that only sells ingredients delivered on the same day and is cooked over charcoal. Thanks to this, the meat of the dak-galbi is soft, and the charcoal flavor is soaked in, and you can enjoy the subtle flavor. It is said that the grill used to cook dak-galbi is disposable for hygiene purposes only. There are 3 types of dak-galbi on the dak-galbi menu: regular dak-galbi, spicy dak-galbi, and teriyaki dak-galbi, and unlimited woolong miso stew is offered when ordering dak-galbi. Dipping the well-seasoned dak-galbi with mozzarella cheese makes it even more enjoyable.
If you use a set menu that includes a side menu and dak-galbi, you can enjoy dak-galbi at a lower price. It's a low price of less than 10,000 won per serving, which is popular among students, including high school students nearby. Please note that there may be weighting during mealtime
* Source: bengkyung's Instagram
▲Location: Donggyeong Building, 1433-69, Sillim-dong, Gwanak-gu, Seoul ▲Opening hours: 14:00 to 01:00 every day ▲Price: Dak-galbi 8,500 won, spicy dak-galbi 8,500 won ▲Review (Shikigshin IC3 Gwangdae L): I went there a little early. The hall was larger than I thought. Before I went to Shillim Gourmet Kantong Dak-galbi, I took a look at it from the front. They also have a set menu where you can eat at a slightly cheaper price. It's fine.
2. "Arichai," a Chinese restaurant with delicious dim sum
Sixteen years ago, the fashion and culture district of Shillim was brought closer to a food alley when restaurants opened in the place where clothing brand stores were located. The Chinese restaurant "Arichai" is located at the entrance of this street.
The spacious store has 220 seats, and its interior is decorated with colorful Chinese ornaments. It has the same atmosphere as a high-end restaurant, but excluding dishes, the à la carte menu is affordable, with seafood champon at 8,000 won and dim sum at 5,000 to 6,000 won. Also, instead of pickled radish, which is standard in Chinese restaurants, Arichai offers pickles made directly from the store, and the fresh flavor cleans the mouth. The signature menu here is definitely dim sum, and it's easy to find dim sum being made on one side of the store. "Sorongpo," which is a dumpling filling filled with pork and various vegetables, has a thin yet chewy dim sum skin and rich juice that bursts out of the mouth. You can enjoy it even more if you eat it with the ginger that came with it. "Shrimp Sujutsu Dim Sum," which has chewy shrimps popping out, is another popular dim sum.
Please note that the special lunch menu allows you to enjoy a variety of dishes at a lower price, and dim sum is served at different times of the week.
* Source: a5021004's Instagram
▲Location: 1430-11, Sillim-dong, Gwanak-gu, Seoul ▲Opening hours: 11:30 to 00:00 every day ▲Price: Face-to-face course (1 serving) 33,000 won, Samseon Jajang 7,000 won, Oh Hyangjang beef 25,000 won ▲Review (Shikishin subway carries love): Glutinous rice soup and pork are the best!! It's so chewy, the meat is thick and sweet, and it's really delicious. The Sichuan jajangmyeon and pork soup noodles here are really delicious!!
3. "Boy's Recipe," a place known only to those in the know
If you walk a little outside of Shillim Station and walk towards Dorimcheon, you'll see a glowing neon sign, and it's "Boy's Recipe", famous as a pasta restaurant in Shillim. The small interior is full of messages from people who have already been there.
The boy's recipe started as a small space at the beginning of the opening, then expanded and moved to a wider area as word of mouth spread. Currently, there are about seven tables. There are lots of cute little items all over the store, and you can also buy accessories such as key chains and cell phone cases displayed on the stalls. All of the pasta here uses "linguine" noodles drawn in a flat shape, so you can enjoy a rich texture. The popular menu is "shrimp rose pasta," which combines soft cream and tomato sauce, and is full of whole shrimp and cocktail shrimp. "MERCURY" (Gorgonzola pizza), which is served by spreading sweet honey on pizza, is also popular. It is said that every pizza is uniquely called by the name of a planet.
Note that on weekday lunches, you can enjoy salad, bread, and pasta for 9,000 won.
* Source: alicepark9970's Instagram
▲Location: Shillim East Apartment, 1695, Sillim-dong, Sinwon-ro, Gwanak-gu, Seoul ▲Opening hours: Lunch 11:30 ~ 15:00 Dinner 17:00 ~ 21:00 /See the holiday schedule ▲Price range: Carbonara 11,000 won, Aligolio 10,000 won, Gorgonzola 12,000 won ▲Review (Shikigami Jorleihi): It was nice because the pasta noodles were flat and there aren't many places like this in Shillim, but the atmosphere is all good
4. The best flavors at a reasonable price, Namgojip
High-end Korean beef is no exception in Shillim, which is famous for its many value-for-money restaurants. An example of this is "Namgojip," where you can enjoy aged Korean beef raised in an eco-friendly environment at Seolseong Farm at a relatively reasonable price.
"Namgojip," short for "a house where a man grills meat," is where male employees cook their own meat. There are rooms and tables as well as bar-shaped seats and personalized ones, so it's easy to visit alone. The signature menu, the "Namgojip Set," consists of Korean beef sirloin, snowflake ribs, snowflake tenderloin, and rib meat, and it is said that each part has a different aging period for the best flavor. Thanks to this, you can enjoy the different texture of each part, and the flavor and softness of the marbling at its best. As a meal menu, "soy sauce stewed butter rice," which combines the aroma of butter with the saltiness of soy sauce stew, and "beef ramen," which has a deep soup flavor with Korean beef, are popular. A variety of alcoholic beverages are available, including wine, and Daedonggang beer, which has a floral scent and citrus flavor, is popular.
Note that the "True Carnivorous Set," which consists of lean Korean beef, shrimp, tenderloin, ribs, and rib meat, is sold in a limited edition of ten pieces per day.
* Source: kjd8787's Instagram
▲Location: 1422-22, Sillim-dong, Gwanak-gu, Seoul ▲Opening hours: 17:00 to 02:00 every day ▲Price range: Namgojip set 69,000 won, snowflake set 59,000 won, 1++ Korean beef and shrimp meat 39,000 won ▲Review (Seikin Jeong Jang Yum): Korean beef was originally delicious, but it was softer and tastier when aged. ~ Jang steamed butterrice is addictive lol
5. "VALUTO (VALUTO)," famous for its matcha, gateau and chocolate
There is a cafe that brightly illuminates the streets of Koshi Village in Shillim, which is somewhat tense. At the cafe "VALUTO (VALUTO)," which is sometimes a resting place and library for high school students, you can enjoy a relaxed atmosphere that is quite different from the outside world.
Each store on the 3rd floor is used as a coffee bar, development room, and roasting room, and it's fun to look at the different interiors on each floor. At Baluto, you can find various types of scones such as matcha scones, blueberry scones, and mugwort scones, as well as a variety of sweets such as cakes and cookies, but "Matcha Gato Chocolat" is definitely popular. The visual appearance of the matcha cream flowing from the cake to the plate stands out. The combination of matcha gateau chocolate, which has a rich flavor using 100% matcha powder, and soft matcha cream is exquisite. I like the bitter yet aromatic scent of matcha that fills your mouth. Also, the quality of the coffee is also high because baristas who have been trained at the store serve their own roasted coffee. Beans and tea bags can also be purchased separately.
Since high school students usually come here, it is said that they open their doors early in the morning at 8 o'clock. Whole cakes can be ordered 2 days in advance, and when ordering coffee, you can order customized beans, milk, sweetness, etc. according to individual preferences.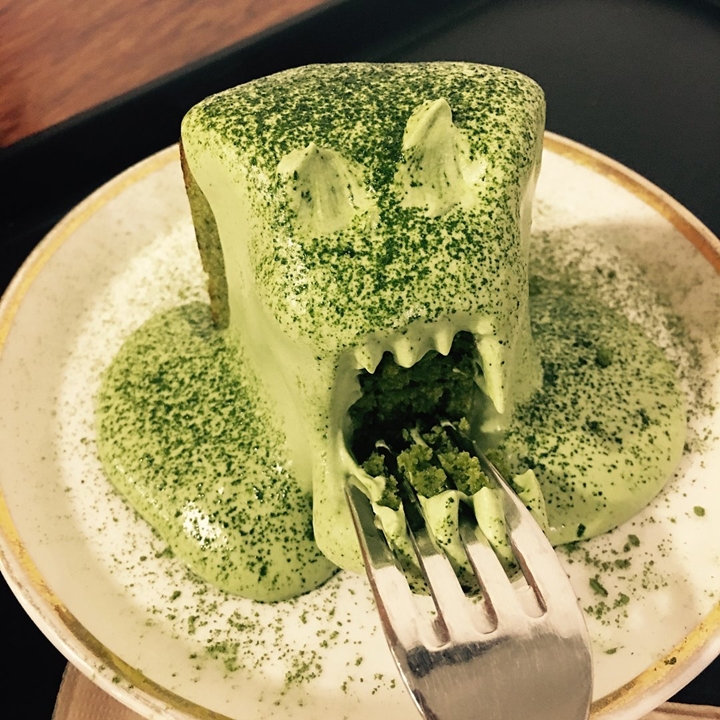 * Source: jjy_otto's Instagram
▲Location: VALUTO, 1524-5, Sillim-dong, Gwanak-gu, Seoul ▲Price: Americano 3,000 won, cafe latte 3,500 won, matcha gyatto chocolate 5,500 won ▲Review (Shikigin Rom anfica): Everyone heard a lot of noise while taking pictures lol lol lol the famous matcha gyato chocolate is delicious, but I also recommend the mugwort scones, they are really delicious!!