A "demand food party" that awakens your sleeping food DNA
A delicious story told by Vietnam, the country of rice
Full of fire! Sweet pork and
A combination of sweet and sour sauce
Lots of exotic spice scents
Deep umami rice noodles
Crispy texture
Vietnamese flavours bursting in abundance
Bantheo & Banmi
After a spicy meal at Hwarong Branch
Today's menu, Vietnamese food
<알듯말듯 알쏭달쏭 ë² íŠ¸ë'¨ 음식 이름 ì´ì •ë¦¬>
Vietnamese food with a variety of flavors and shapes
Names vary depending on ingredients and recipes
Vietnamese food with different names depending on the shape of the noodles
The wide side is fur, the thin side is thin
The morning star of Vietnamese food
Fire-flavored pork in a sweet and sour sauce~
A perfect collaboration with a rice noodle like somen
The spicy broth is full of Vietnamese flavors!
Hue, Vietnam, in a place like Sichuan Province in China
The characteristic of eating strong and spicy rice noodles!
Add beef bones or pork leg meat and bring to a boil
Spicy soup cooked for a long time with the addition of various aromatic ingredients
Trendy Vietnamese food, banmi
The outside is crispy! The inside is in a crisp bread
Banmi with a variety of ingredients to create a variety of flavors
The biggest difference between baguette and banmi is the texture
The baguette is slightly chewy, but the half-rice has a crunchy texture
A pate made from chicken or pork liver
Apply it to bread
Made with pork, fish, Vietnamese ham, etc.
Banmi has a wide range of flavors with a variety of ingredients
On rice paper soaked in water
Fresh spring rolls wrapped in ingredients according to taste
An excerpt version of our food in a form similar to a fresh spring roll
Crispy deep-fried wraps
Mix minced meat with various vegetables such as carrots and mushrooms to make beef
Roll it up with rice paper soaked in water
Crispy fried chicken
<ê³ ìˆ˜ë¥¼ í"¼í•˜ê³ 싶어ì"œ~>
Coriander known to have antiseptic effects
Often used in hot Southeast Asian regions
Coriander seeds are one of the ingredients that give off the aroma of hoga* beer
Therefore, without knowing it, we have already come across a lot of experts
From the past in Hwanghae-do areas such as Kaesong
There is a record of eating a lot of coriander
Coriander kimchi, cilantro toppings
Stir-fried coriander potatoes with potatoes
Enjoy a variety of menus, such as coriander sashimi, which is eaten by dipping boiled coriander
Selected by the Demand Gourmet Association from now on
Here are some "Vietnamese food" restaurants you should go to before you close.
The first dining room

Vietnamese restaurant where you can enjoy Hanoi's local rice noodles
'From Hanoi' in Mangwon-dong
Capturing the cute sensibility of Vietnam
A bowl of rice noodles to enjoy in a cozy space
This place is rapidly gaining popularity due to its youthful sensibility
Light rice noodles, a variety of flavors, etc.
A place where you can enjoy different Vietnamese food
The emerging mecca of Vietnamese food
Yellow and cute props
Properly used interior
Learn local Vietnamese recipes and recreate local-style rice noodles
Beef rice noodles, the signature dish of this restaurant
Rice noodle soup made by removing oil one by one
Impressively aromatic green onions and tender, thick meat
Oxtail, incident, sunshine
After boiling it in a pressure cooker
Add various spices to the broth that has been boiled and then the oil has been removed cleanly
Rice noodles made with chewy rice noodles and sliced chives
The crispy blood is full of bean sprouts and pork
A festival that unfolds in the mouth with a variety of textures
Vietnamese pancake banseau
Half meaning bread + seo meaning sizzling
Sizzling cake
After mixing rice flour with turmeric powder to make a paste
Deliciously stir-fry pork and shrimp
Spread the dough on it
If you add bean sprouts and peanuts
Banseau, a delicacy with a variety of textures
If you put banseau on softened rice paper and eat it, it's excellent
Han Joo-pyeong: Life's Rice Noodle
Second dining room

A place where Vietnamese people soothe their nostalgia with a bowl of rice noodles
Wangsimni "Pham Ti Jin"
A place that closely resembles Nha Trang, a city full of laughter and relaxation
Food with local Vietnamese flavors
For Vietnamese people who miss their hometown, a bowl of comfort with nostalgia
A hearty meal for someone
A place with Vietnamese food that fills you with nostalgia
The owner from Nha Trang recreates local rice noodles
A house that became popular due to word of mouth spread among Vietnamese people
Beef rice noodles, the signature dish of this restaurant
Light yet bursting with umami! Perfect for a hearty meal
The more you drink the more you drink, the more you get the most out of the country
Put in beef bones, poles, tendons, oxtails, etc.
After 20 hours of slow cooking with various spices
Rice noodles topped with meat, chives, onions, etc.
Rice noodles with a light flavor
After another branch of this restaurant's menu
After taking a bath like a spicy visceral bath
Vietnamese food like Korean food
Various garnishes such as oxtail, Vietnamese ham, and beef meatballs
It looks like a heavy soup, but
Refreshing lightness when you try it
Yukgaejang before adding lime, Southeast Asian food if lime is added
Lime that offsets the taste of chili oil
Use oxtail instead of pig's feet to suit Korean tastes
In broth made from oxtail, beef bones, etc.
Add lemongrass and satay sauce to enrich the flavor and aroma
If you put up a variety of garnishes
After a spicy flavor explodes with umami
minced garlic, lemongrass, dried shrimp
Add red pepper powder, etc., and fry
Satay sauce with enhanced umami after aging
After a further upgrade to lime
Han Joo-pyeong: An amazing special health food
The third dining room

A place where you can meet Ho Chi Minh in Seoul
Noryangjin "Saigong-ri"
This place recreates Ho Chi Minh, Vietnam, in a narrow alley in the middle of the city
Enjoying in a small interior
Vietnamese local food
Rice noodles with a rich and refreshing broth
A place where you can eat a rich, filling banmi
Run by the owner from Ho Chi Minh and her Korean husband
A place likely to be in rural Vietnam
Beef rice noodles, the signature dish of this restaurant
The rich aroma and flavor of the broth
A rich broth with a harmonious umami flavor
Use only raw noodles to create local flavors
To baked bread that is crispy on the outside and moist on the inside
Covered with plenty of pâté and generously filled
Rich and harmonious flavors
Vietnamese sandwich banh mi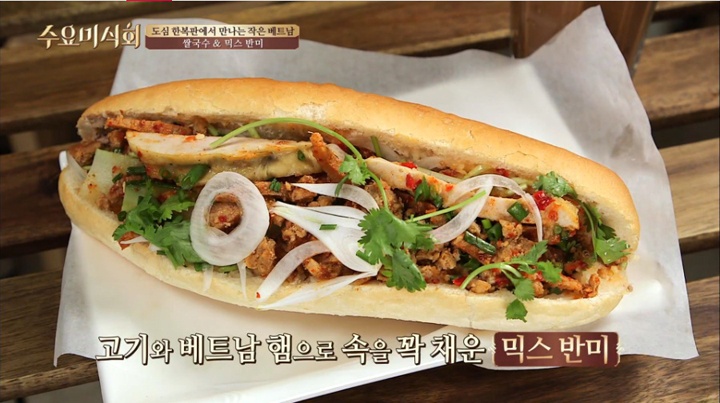 Mixed banh mi filled with meat and Vietnamese ham
Banmi bread made from wheat and has an excellent mild flavor
Han Joo-pyeong: Vietnam is here.