A "demand food party" that awakens your sleeping food DNA
Darkness is falling
You did your best today
CHEERS with a sweet drink!
Having a drink with fun people
Foods that are even more delicious when served together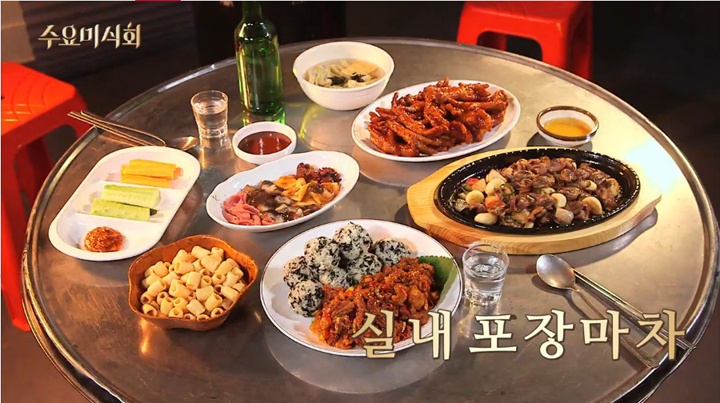 Today's menu, indoor food stalls
<ëŒê³ ëŒì•" 대세는 포장마차>
There are nostalgic people and cheap snacks
A place that people keep visiting
When did food stalls start
After an industrial environment where vinyl tents can be produced in large quantities is created
Also, in the 1960s and 70s, when the consumer base was formed
Food stalls rapidly flourished in the 1980s
The period of the 86 Asian Games and 88 Olympics
When I paid a lot of attention to external appearance
Food stalls slowly arranged in accordance with government policies
There was also a problem with the hygiene part
Due to inaccurate sales
There was also a reason why it was difficult to calculate taxes
Nowadays, it is operated with permission from the local government
One of the reasons why there are so many indoor food stalls is the IMF
There were many people looking for cheap indoor cars to soothe their hearts,
After honorary retirement or job loss
Because there were many people who started indoor cars that could be started at a low cost
<What are some popular snacks at food stalls? >
An indoor food stall where you can enjoy a variety of snacks at reasonable prices
Gooseong who is plump
Soft texture of conger eel sashimi
Mussel soup, a basic snack that comes out as soon as you sit
Once upon a time, the most popular snack was grilled sparrows?
Sparrows are not welcome in rural areas due to damage to crops
Grilled sparrows served as a snack at a food stall
Due to poor pocket space
People looking for cheap soju and makgeolli
Reasonably priced snacks made as an accessory to livestock products
Using simple ingredients to make the most of the flavor of chicken gizzards
Stir-fried chicken gizzard, the representative snack of indoor packaged tea
The chicken sandbag is the "proximal" part connected to the chicken's stomach
Spicy stir-fried octopus with a fun texture
Ododoku bone is located at the end of a pig's ribs
Rib cartilage area
Odo Dokbone who was excluded from the livestock market
Add flavor to cheap octopus with spicy condiments and vegetables
Odo dokkotsu stir-fry that became popular as a snack at food stalls
Stir-fried hagfish stir-fried with spicy sauce
It is said that there was an eel leather factory during the period of Japanese domination
Hagfish leather used as a string for Japanese shoes or hats
Made by removing the leather and using the leftover skin as a snack
Food stall snacks that add flavor to underserved ingredients
The Three Musketeers of Seafood: Sea Cucumber, Sea Cucumber
A sea crab full of the scent of the sea
Sea cucumber with a crunchy texture
Kaebu with a sweet twist and charm
The Three Musketeers of Seafood at a food stall in the city
It appeared in the 70s and 80s
There must be technology that can keep seafood fresh
Even though it's strange at first because of the visuals
Selected by the Demand Gourmet Association from now on
Here are some "indoor food stalls" restaurants you should go to before closing the door.
The first dining room

A place where you can enjoy the taste of Namdo with seafood brought from Jeolla-do
Seoul National University Entrance 'Namdo Food Stall'
A simple atmosphere that seems to have been deliberately decorated
A nostalgic food stall where you can feel a warm welcome
A savory crab soup with fresh blue crab and
A place where you can enjoy snacks made from seasonal seafood
Seems like the art director made it on purpose
A space that brings back memories
What we usually think of as a typical food stall
Fresh seafood from Goheung
A variety of menus made with seasonal seafood
Flower crab soup, the signature dish of this restaurant
Use miso that has been aged at home
Crab soup that becomes saltier as it is boiled
A soup that hasn't been salty even after a long time of cooking
Autumn crab that is delicious whether you eat it steamed or in a soup
Add plenty of homemade miso and fresh blue crab
Flavored with simple vegetables
The more you cook, the more delicious the crab soup
The owner's recommended menu is grilled prawns
Seasonal prawns that are filled like blue crab
Another recommended menu is gourd sashimi
A sashimi that is easy to eat and has no dead ends
Add sweet plum juice to the long sliced gourd
After mixing it once with spicy sauce
If you add vegetables and mix again
Sweet and sour sashimi sauce
Side dishes that are delicious even when stir-fried anchovies
A simple yet mouth-watering side dish
Han Joo-pyeong: Is there a reversal of this?
Second dining room

A house that captivated young drinkers with seafood brought from all over the country
Seochon 'Anju Village'
A dark alley
A place that captivated young drinkers
To seafood brought from all over the country
Presenting a different kind of food
A charming house you won't be able to leave once you leave
Drunk drinkers who filled the store as soon as they opened the door
This restaurant's signature dish, mentaiko tofu soup
Mentaiko tofu soup that brings sake
Mentaiko tofu soup seasoned only with mentaiko
The core of mentaiko tofu soup is broth
Put a good quality mentaiko in a rich broth and bring to a boil
Mentaiko tofu soup with a refreshing flavor
Another dish at this restaurant is salted herring and tofu
Add savory sesame oil to marinated herring roe
If you cut the tofu and cucumber nicely and put them on
Marinated herring and tofu with a unique texture
Of dried seaweed, herring roe, tofu, and cucumber
Foods that are fun to combine
Herring roe has a unique texture and is delicious even if you just eat it
A house that tries to change due to curiosity about food
Foods that create strange flavors with a combination of ingredients
Han Joo-pyeong: A great example of evolution
The third dining room

A place where you can enjoy chewy and plump hagfish scented with charcoal
Nonhyeon's "Jang-i-ne-san eel "
Fresh hagfish taken directly from production areas
Primed with the scent of charcoal
With chewy, chewy, and chewy hagfish
A combination of sour kimchi and saury! Kimchi stew
Everyone is sitting face to face, leaning over a drink
A place where you can enjoy authentic eel and kimchi stew
Do the priming on the charcoal
Eel with more amplified flavor and aroma
Eel with a variety of flavors, including the scent of charcoal
A combination of savory hagfish and sour green onion kimchi
What is prepared and baked from time to time
The secret to enjoying the natural taste of hagfish
"Liver" has a chewy charm that is different from lean meat
Kimchi stew is another dish of this restaurant
Kimchi that has been simmered for a long time and has become mushy
Tear-ripping kimchi stew
The way the owner ate as a child
The sour taste of kimchi stew and
The combination of the savory flavors of hagfish
The plump saury is also excellent
Slowly boil the kimchi every day
To kimchi that has become flabby
Add saury and kimchi soup
Kimchi stew made by simmering
When you think of a moderately sour kimchi stew
The kimchi stew from this place is just right
Han Joo-pyeong: What's wrong with this? It's all delicious