A "demand food party" that awakens your sleeping food DNA
The cold wind cuts through the blowing winter sea
When seawater runs out
Winter tidal flats slowly coming to light
Even the friends on the tidal flats who were always hiding
If they start appearing one by one
Time to go in search of hidden treasures in the tidal flats!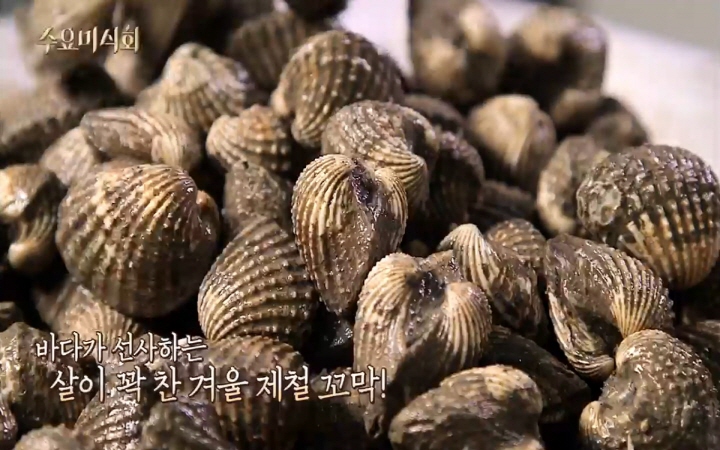 The sea brings you a lot of meat in the winter season!
Dip Komak in hot water after taking a clean bath!
Steamed komak, which has the natural flavor of komak
Even the sweet and salty soy sauce seasoning and komak sauce!
Komak's colorful transformation!
Will make this winter rich
Today's topic, "Komak"
Take a bite of boiled komak right away
Add sauce to the warm rice and take a big bite
Leftover komak is perfect as a side dish for the next day's lunch!
I met Komak as a snack after becoming an adult
Spoon the well-cooked komak with a spoon-!
If you eat it with a cup of soju, it's a perfect match
Separate only the skin of a well-boiled komak by hand
If you carefully add soy sauce seasoning to each komak
Colorful soy sauce seasoning mixed with komak
Komak blooming brightly with colorful and frequent condiments
With hot rice
The umami of komak that fills your mouth
For chewy little meat
Komak sauce topped with seasoned soy sauce
Just like the original flavor!
Even komak that has been boiled whole
A spicy komak sauce that is perfect as a side dish for rice!
Gently apply the deep-boiled komak
Radish and spicy sauce shakeet~shakeet~
Spicy komak sauce with mouth-watering visuals
The umami and chewiness of komak
Put the flour dough on the side of the skewer with the sauce
If you fry it in a hot frying pan until golden brown
Komakjeon is fun to chew and filled with eardrums
Komak that feeds to spawn
This is the most delicious season when you get plump and fat
Across the wide expanses of tidal flats
If you walk on the tidal flats on a boat
Before I knew it, it was full!
Beulgyo Market where you can find freshly caught komak
85% of the nation's komak is produced in Jeollanam-do
In Boseong-gun, including Beulgyo
Jeollanam-do accounts for 70% of komak production
Boasting an overwhelming production volume
Beolgyo, the sacred place of Komak
The smell of seaweed is raging!
Fresh, seasonal Beulgyo noodles
Beolgyo, which served as a gathering place for komak
The shape of a bay in the South Sea with a waterway and a confined shape
A pearl so beautiful that your feet feel soft the moment you enter
Perfect for the rich nutritional intake of komak!
There is also a snag that can be dug from the tidal flats with a bait, but
There is also a small fish that you can catch by going out to sea on a boat instead of a boat?!
Camellia sinensis and cocklefish belonging to the same shellfish family
There is a clear difference in taste between camellia and saekomak
Red camellia with a bitter taste of blood
Saekomak has a light and savory flavor
The number of goals of a young bird is about 31 to 33
The number of bones in camellia is about 15 to 18
The one that is round and has a white surface
The surface is black, rough, and hard (?) The red camellia that appeared
The hair "villus" that only birds have
A young mushroom that has a yellow color when boiled
Chocolate-colored camellia when boiled
Chamkomak contains more hemoglobin than chicken komak
Selected by the Demand Gourmet Association from now on
Here are some "komak" restaurants you should go to before closing the door.
The first restaurant
Chewy camellia from the South Sea in the city center
A house you can fully enjoy
Bangi-dong, 'Mashiri Beulgyo Chamkomak'
A place bustling with customers when the sun sets
Chamkomak cooked properly with this house's unique know-how
Knock! If you open the peel
Chamkomak, which shows off its moist appearance, is now available!
Tangle Tangle
A place where you can fully enjoy the Namdo Sea Jamkomak
Filled with the sound of bumping into a drink and stories about the day
A nostalgic atmosphere steeped in the smell of people
Pictures of the big menu on the wall
It features Namdo-style food like home-cooked meals
Freshly boiled anko damun komak peel
Knock! Knock!
Forgetting is fun
Tangle tangle~ chewy chamkomak
There is a huge difference in flavor depending on how well you cook it!
Deep umami that spreads with a chewy texture
The delicacy of properly boiled camellia
That place is the best place to eat when it comes to the chamomak flavor alone!
The appeal of chamkomak, which has a refreshing aftertaste
Put the camellia in lukewarm water
While stirring and cooking in a certain direction
When bubbles form
Throw cold water!
Pick one! Cassie
Pull it out when it's slightly undercooked
After cooling the temperature with cold water
Red camellia served on a plate
Another dish at this restaurant is "Seodae-steamed soup"
Moisten it in a steamer
Beautifully seasoned with red pepper, green pepper, etc.
full of gravy
Seodae-steamed pork is attractive for its plump flesh
Seodae that is thick and plump
Cook on a moderately dried, semi-dried platter
Seodae-steamed rice that is full of chewiness when it cools
The flavor of Seodai brought out the right amount of seasoning
Seodae-steamed rice, perfect as a snack for makgeolli
Han Joo-pyeong: Don't brag about food in Beulgyo
Second restaurant
A place where you can meet fresh bird meat brought directly from Beulgyo
Garak-dong, 'Ongari Beolgyokomak'
Located on a quiet roadside
To a fresh bird's meal sent directly from Beulgyo
Dressed in soy sauce and mixed
Komak soy sauce sauce, which has an attractive bitter flavor,
Tock! The pungent flavor is excellent
Even steamed whangaori!
A house where men and women of all ages can easily enjoy komak
Extraordinary pride and love for komak
This restaurant has a variety of komak dishes
Cuckoo boo ~ Beautifully captured
Chubby chicken meat mixed with soy sauce
Komak soy sauce with an attractive mild seasoning flavor
Add water, kelp broth, and soy sauce
Add onions, radishes, pufferfish, motherwort, and astragalus
After adding cheongyang pepper, garlic, ginger, etc.
Seasoned soy sauce made by simmering
After aging, put it in the saekomak and mix
Boom in a golden color!
Steamed Whangare-Duckling
Steam the aged yellow stingray and add a little bit of soy sauce.
Top with chopped green onions and red pepper powder~
Tock like a redfish! Steamed pike
The powerful scent of steamed pierced pierced pierced whangaori right through the nose
A sharp scent that spreads deep when you take a bite
Savory ginger miso mixed with plump chicken
Komak sambap
Savory and chewy komak sambap
A delicious combination of stone-grilled bibimbap and komak
Rub it out evenly
Scoop out a big spoonful and take a bite!
Komak dishes each have a distinct personality
A place where Komak experts and beginners can enjoy together
Han Joo-pyeong: Good. Suck!