The university districts of Sinchon and Hongdae are bustling with lively students. There are quiet, relaxed neighborhoods around Sinchon, Hongdae, and Sogangdae. 'Changjeon-dong' in Seodaemun-gu. Close to Gyeonguisun Bookstreet, this is a residential area with various studios and lesson rooms, such as flower shops and stationery editing shops. It's been 30 years. From restaurants that have kept their seats to late-night restaurants that you want to take as a hideout. Here are BEST5 restaurants in Changjeon-dong, a neighborhood next to Sinchon that is fun to explore.
1. 30-year tradition of hand Kalguksu , Changjeon-dong's 'Good Year Kalguksu '
Image source: Shikigami Contents Team
Image source: Shikigami Contents Team
At the back of the alley, "Pungnyeon Kalguksu" is a hand knife noodle specialty store that has been in operation since 1989. At the same time as the order is placed, the dough is made directly. The signature menu is "Azuki Kalguksu," which contains a chewy layer of homemade kishimen noodles with a sweet, light red bean soup. The seokbak and toppings that come with it have a non-irritating flavor and go well with any menu. Note that bean noodles are also sold in summer.


SUA Alley and another alley. I was impressed by the sign that says it has been a 30-year tradition. It was a cold day, but the warm water that came out was cozy. They say it's a famous place for red bean noodles and bean noodles, but it's not summer, it's a pass. The sweetness without excessive sweetness doubles and triples the flavor of adzuki beans. As soon as the order was placed, I was impressed to see them cleaning up the kishimasu noodles. The uneven noodles are really nice.
EUNAE I used to pass through this alley and saw people who looked like nearby office workers entering a small alley. The place at the end of their footsteps is "Pungnyeon Kalguksu." It was a place I had to visit since then, but I have only visited it now. A relaxed atmosphere that makes you feel like you've visited a grandpa's house. Expectations rose from the owner's grandfather's hand kneading. In addition to the signature menu, I would like to recommend the thin yet chewy "homemade clam ." Be sure to try the pickles, which have impressive red pepper seeds! It must be eaten as a side dish.
[Food Tip]
▲ Location: 24 Sinchon-ro 12ga-gil, Mapo-gu, Seoul
▲ Opening hours: 11:00 — 22:30 every day
▲ Price: Clam noodles 6,000 won, red bean kishimen noodles 6,000 won, homemade noodles 6,000 won, bean noodles 8,000 won
▲ review (moist chapstick): In winter Red bean kishimen noodles , summer bean noodles! I keep thinking about the red bean soup and soybean soup you make yourself because they are savory and rich. The side dish that comes with it is also delicious!
2. The boss's sensuous interior , 'Needs Burger' in Changjeon-dong
Image source: Shikigami Contents Team
Image source: Shikigami Contents Team
A homemade burger specialty store located in the basement of the ring. "Needs Burger." It's a place where cute little accessories placed all over the store, such as cute paintings and flower pots, catch the eye. The signature menu is the "Peanut Butter Burger," which is a combination of sweet strawberry jam and peanut butter. It's fun to feel the combination of sweet and salty as a burger. You can enjoy drinks and fries as a set menu.
Neesberger is located on a hillside in SUA. I ordered the peanut butter burger and shrimp burger. We start making orders as soon as they are placed. When the menu came out , I was told that they called me by name, but when I heard it, I was so excited that it seemed like a burger just for me! Especially sweet shakes and fluffy drinks! Once I was with them, I remembered my elementary school friend's birthday party at LOT 000. A burger with strawberry jam and peanut butter goes better with dessert than a meal!
From the EUNAE entrance to the menu board, small items were arranged with care throughout the store. It's a place where you can get an Instagram sentimental photo. I ordered a "peanut butter burger" with a fresh combination of peanut butter and strawberry jam. Between the salty flavors of peanut butter, the sweet strawberry flavor achieves an appropriate balance. Probably because of the savory flavor of peanuts that swirled around after the sweet collaboration, it was a flavor that went better with milk than cola. It really reminded me of a bite of white milk!
[Food Tip]
▲ Location: 24-3, Seogang-ro 9-gil, Mapo-gu, Seoul
▲ Business hours: 11:00-20:30 on weekdays, break time 15:30 — 16:30

▲ Price: Needs Burger 7,900 won, Peanut Butter Burger 7,900 won
▲ Review (Shikigin Kimchi Cheese Soup): Guest name and name of the customer along with the food ordered I was impressed by the fact that they wrote a message together. I recommend the white mushroom burger, which combines the rich white cream with the flavor of the meat patty.
3. 'Felt Coffee' in Sinchon has an attractive soft latte
Image source: Shikigami Contents Team
Image source: Shikigami Contents Team
"Felt Coffee" is a coffee shop with a "silver piano" sign. It is a place where you can drink coffee even in the early hours with a soft coffee flavor made from specialty beans. The signature menu is a savory "latte" with a smooth texture. There's no table, so it's a great place to just enjoy a cup of coffee. Note that they also sell coffee beans.
SUA is a place I personally love. Since they open early in the morning and close in the evening, it wasn't easy to visit while working. The specialty of this place is latte. After the softness unique to felt latte envelops my mouth, I feel at ease in the morning when I go to work frantically. In particular , the song that comes from the turntable blends with the warm sunlight to create a unique atmosphere for Feltt. How nice it would be if you could be in front of the company.
Thanks to EUNAE's full-glass windows, it was a great place to enjoy the sunshine even on a cold day. Nogon nogon in the hot sunlight. It's a place where I don't want to wake up. Background music selected by himself while switching between LPs is also a part of the game. The smooth flow of the added latte. The softness that wraps around the mouth makes even the heart feel warm. It is a space that is remembered for its gentle warmth in many ways.
[Food Tip]
▲ Location: 23, Seogang-ro 11-gil, Mapo-gu, Seoul
▲ Business hours: 08:00 – 18:00 on weekdays, 11:00-18:00 on weekends
▲ Price : Americano 4,0100 won, cafe latte 4,000 won
▲ Review (Shikigami Hee-yeon-chan): The signboard is a silver piano, so it's even more special I think so. Flat white isn't on the menu, but if you order it, they will do it for you. The fact that there are no separate tables and chairs is really unique .

4. 'Quiet Dinner' in Sinchon , a late-night restaurant that only I want to know
Image source: Shikigami Contents Team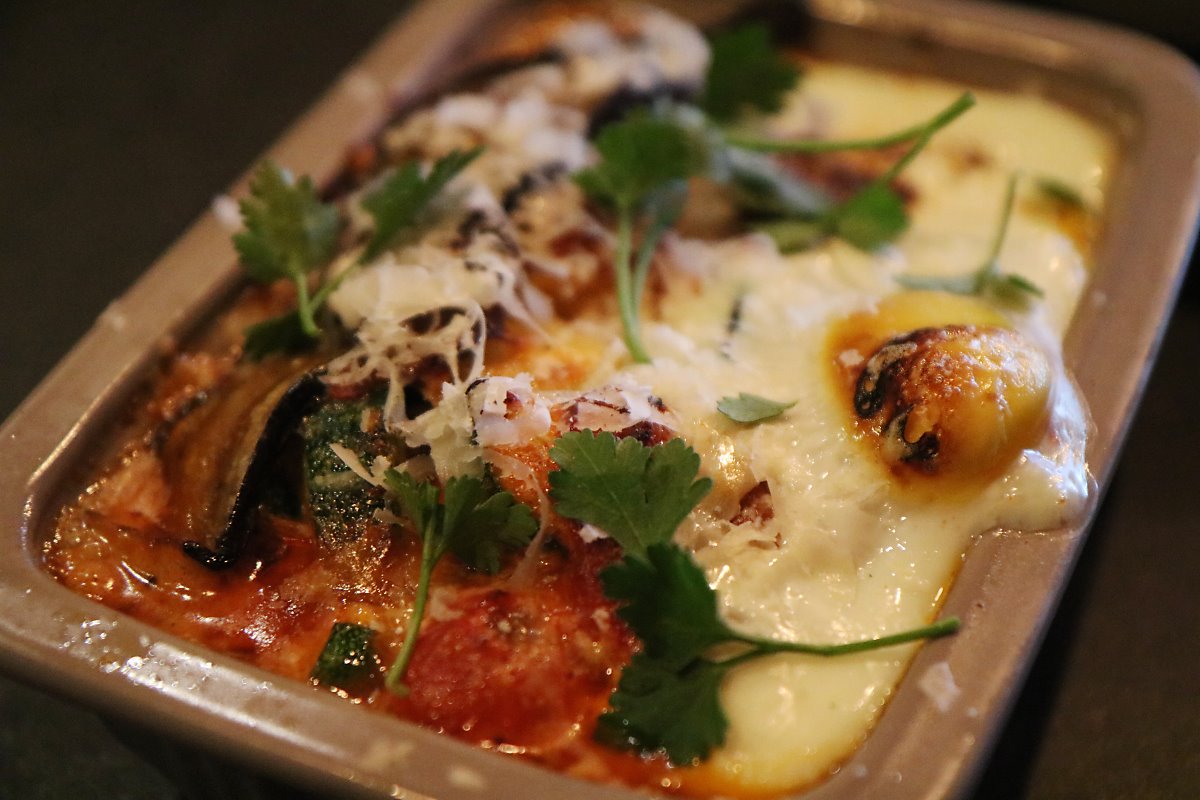 Image source: Shikigami Contents Team
"Quiet Dinner" is a late-night restaurant that only operates in the evening. It's a cozy space with all the "A" bar tables. It's a great place to chat while enjoying food and accompaniment in a dark atmosphere. The menu changes little by little and consists of bruschetta, pasta, etc. It's not a reservation-only restaurant, but there aren't many seats, so it's a good idea to make a reservation. Please note that same-day reservations are also possible.
You might get confused by SUA's unique signboard, so I recommend looking for information beforehand. Does the store have to sit a lot with an open kitchen for ten people? It consists of a bar table where you can sit. The menu changes slightly every day, so it's a good idea to check out their official Instagram. Dorando is the perfect place for two people to spend time talking and drinking wine. Seeing them cook right in front of their eyes is fascinating.
A unique sign that you wouldn't think of EUNAE as an Italian restaurant. If you're a chef, it's a place to run your own late-night restaurant. The dim atmosphere and small but cozy space seemed like they were just telling secret stories one by one. It's a dangerous place perfect as a hideout. The "tapenade pasta" I ate during my visit felt like I had fallen in love with the fondant due to its considerable olive flavor. A place that was also nice to have a kind explanation about the menu.
[Tip for a meal]
▲ Location: 1, Seogang-ro 11-gil, Mapo-gu, Seoul
▲ Business hours: 17:00-24:00 on weekdays, 13:00-22:00 on Saturdays and holidays, Closed on Sundays and Mondays
▲ Price: Basil pesto pasta 17,000 won, meatball sachuka 24,000 won
▲ Review (Shikishin, Nonhyeon-dong, Gangnam-gu): During the day There was a time when I passed by, and I was wondering what this place would do… but it was a late-night restaurant that only operated in the evening! It was nice that the atmosphere was quiet and all the food was delicious .
5. Drink coffee and pick shoes ! , 'Watco Coffee' in Sinchon
Image source: Shikigami Contents Team
Image source: Shikigami Contents Team
"Watco Coffee" is a complex cultural space where you can enjoy showrooms and cafes together. The showroom located on one side operates as a shoe selection shop that sells shoes from various brands. The cafe has a cozy atmosphere where you can find unique drinks such as "Oji Ice," "Hong Kong Milk Tea," and "Sakerato." "Tokyo Toast," which consists of baked bread topped with butter and blueberry compote, is a popular menu.
Watco operates a SUA shoe selection shop and cafe. It's a great place to visit an editorial shop on the way back after a cup of coffee. They sell a variety of coffee menus, drinks, and even toast. As the atmosphere was quiet, I saw many people doing private work. Watco beans are also sold separately in drip bags. When the days get warmer, I think it would be nice to go out to the terrace and drink coffee.
In addition to EUNAE coffee, it is a cafe where you can also enjoy a variety of drinks such as milk tea and various teas, and a simple bakery menu. Wooden accessories that naturally blend together, such as tables, trays, and coasters in a dark space , give a comfortable feeling. After enjoying coffee and sweets, there is a must-see course where you can visit a shoe boutique. I actually liked the khaki sneakers. On my next visit, shoes take precedence over coffee.
[Food Tip]
▲ Location: 63, Seogang-ro 16-gil, Mapo-gu, Seoul
▲ Opening hours: 09:30-22:00 every day
▲ Price: Flat white 5,000 won, lemonade 6,000 won
▲ Review (Shikigami Candy Crush Soda): I went to this place when I was looking for a place with a beautiful garden. I also looked at the store next door and got a pair of shoes! They also used very expensive coffee machines , and the baristas were kind and professional .