A "demand food party" that awakens your sleeping taste DNA
When the light comes on and a fan appears
Fresh ingredients are in!
Tender noodles and
all kinds of colors
Finishing the flower decoration with sauces
Stimulates all five senses!
Today's protagonist pasta
With various transformations
Pleasant to the eyes and mouth
Today's food "pasta"
Italian pasta with different characteristics in each region
"There's no Italian food. There are only local foods"
Using local specialties according to the natural environment
A variety of pastas are born
Sicily Island
Similar to Jeju Island in Korea
The island of Sicily in southern Italy
The warm sunshine and blue sea welcome you
Mediterranean island 'Sicily'
With rich seafood and ingredients
A place full of energy
Sicily (Sicilia)
To an island located at the southernmost tip of Italy
A region where various fresh seafood dishes have developed
Sicily was ruled by many countries in the past
Due to the influence of the domination of European countries
Diverse food cultures develop
The four sides are made up of the sea
Sicily is known as the "paradise of seafood"
Full of the scent of the sea! Squid ink pasta
The signature sauce that can't be missing in seafood pasta
With a light and refreshing taste
"Olive oil" brings out the flavor of seafood
Typical oil pasta "aglio olio"
Rome
Rome, a central city not to be missed in Italy
To a colorful attraction
The eye-catching capital of Italy
Rome (Roma) – the capital of Italy
"Cacio Pepe," a pasta flavored with cheese and pepper, and
"Carbonara," which is flavored only with egg yolk, cheese, and pepper, is famous
Add guanciale, cheese, pepper, etc.
It is characterized by a strong flavor
A mixture of various cheeses and the sauce is hearty
Soft "American-style carbonara"
Season with cheese, pepper, and egg yolk
"Roman-style carbonara" with a salty flavor
Immigrated to the US
Carbonara introduced by Italians
Bolognese
Even in Italy, a country of foodies
A place considered one of the "towns of taste"
There is a calm and free atmosphere~
"Bologna", a city in northern Italy
BOLOGNA (Bolona)
It is a transportation hub connecting all regions of Italy
A gourmet city rich in food culture due to the development of crops and livestock breeding
With abundant resources
Bologna, where a diverse food culture developed
Dishes using meat and cheese are particularly famous
Bologna's signature pasta "lasagna"
Spread raw noodles made from eggs
Fill it up with meat, belsamel sauce, and cheese
If you bake it in the oven
Full of deep flavors of meat and cheese!
Another pasta that comes to mind when you think of "bologna"
"Bolognese," which has a strong tomato sauce flavor
Tomato sauce mixed with meat sauce
When it comes to pasta, it is commonly known as "bolognese spaghetti"
Locally, it's "ragu" or "ragu alla bolognese"
Bulgarian-style meat sauce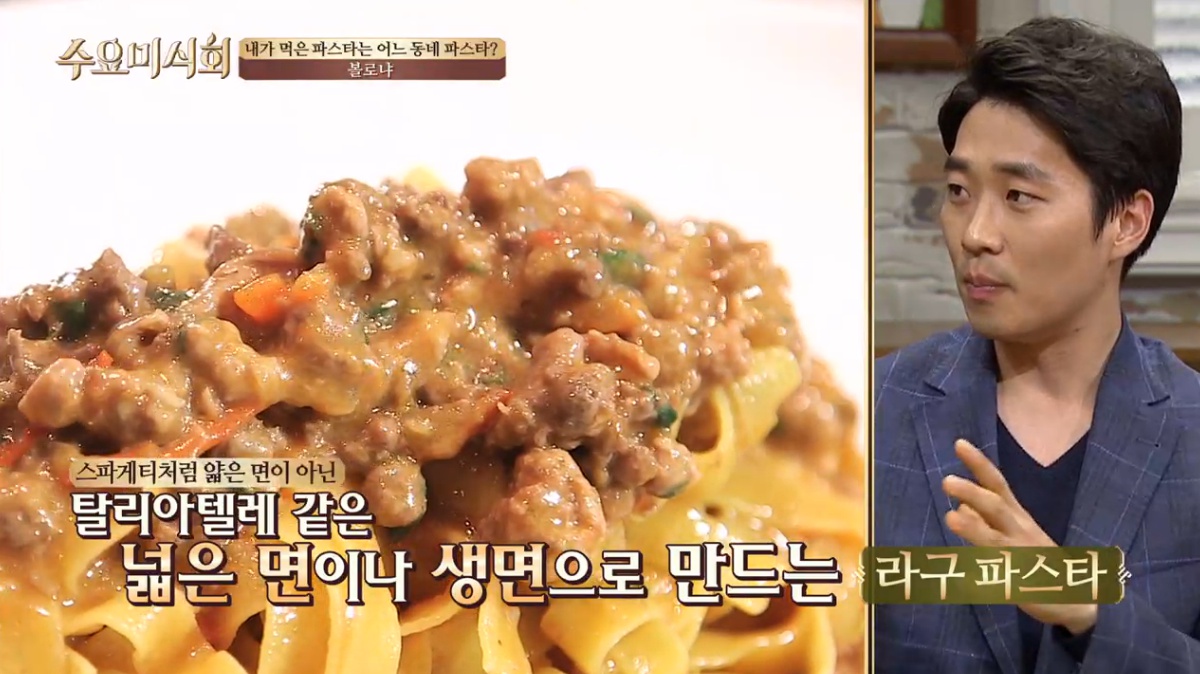 Like tagliatelle
"Ragu pasta" made from wide noodles or raw noodles
Made with a sauce made with tomato and meat stir-fried together
Bolognese pasta
Â
Other than adding meat
Ragu sauce without a fixed recipe
Went to the US
Ragu sauce modified by Italian immigrants
Add meat and various ingredients
Bolognese pasta tailored to American tastes
Selected by the Demand Gourmet Association from now on
Here are some "pasta" you should go to before closing the door.
First restaurant
A dish that captures the chef's senses
A place where you can enjoy unique Italian pasta
Hannam-dong, 'Omanzia'
Imbued with Italian feeling~
An open kitchen with a sophisticated feel
In an upscale slum atmosphere
A place where you can enjoy unique pasta
"Mare Misty" filled with the scent of the sea
Cooked seafood and sashimi
Exquisite harmony
Of savory taste
Cut the mullet (wheat fish) into thin slices
After putting it on top of arugula
A little bit of salt! A little bit of lemon dressing!
Smoked
If you put salmon on it
Fresh white wine and
Seafood flavors that go well with each other
This restaurant's signature menu is "Sicilian Seafood Busciate"
The chef brought it in by himself
For Sokcho dandelions and Tongyeong scallops
Plenty of fresh tomato sauce~
Squishy bushy noodles
After boiling it to a chewy texture
So that the tomato sauce soaks in
If you mix gently
A good combination of seafood and tomato sauce
Sicilian Seafood Busciate
In tomato sauce
Fresh crayfish and mullet are added
Along with the freshness of tomato sauce
Maximizing the umami of seafood!
Juicy pang pang!
Sirloin steak with a deep and rich flavor
Bake it right in the oven
Pizza that is crispy on the outside and moist on the inside
Han Joo-pyeong: Exquisite balance of sauce
Second restaurant
The couple went to Italy and tasted it together
A place that recreates local Italian pasta

Seogyo-dong, 'Panello'
Imbued with a local feel
A place where you can enjoy Italian pasta
The name of the restaurant that means "pizza dough" in Italy
As the name of the restaurant suggests, this place is very famous for its pizza
After going on a trip to Italy together
The owner and his wife are in love with local food
Research foods you've tasted in Italy
Reproduced as it is
While traveling to Italy once a year
A couple working hard to develop a new menu
This restaurant's signature dish, "Carbonara"
Homemade guanciale
Drizzle a little olive oil
Bake it until golden brown and crispy
Noodles boiled with just the right texture
On a soft fire
If you mix eggs and sheep's milk with cheese
The taste of the mainland remains the same!
Authentic Italian carbonara
Guanciale (Guanciale)
Pork neck, cheek, or jaw
Italian-style bacon marinated in salt and dried and aged
Filled with the unique scent of pork cheeks~
When baked
Crispy and chewy guanciale
With a rich texture and rich flavor
carbonara
The strong scent unique to Guanciale and
A strange scent mixed with sheep's milk cheese
Once you eat it, you can't stop
Strangely charming carbonara
"Truffle tagliolini," a completely different charm from carbonna
Truffle powder dried in wheat flour and
Add only egg yolk
Homemade raw noodle tagliolini
With a special mushroom sauce unique to this restaurant
Add oil and bring to a boil on your own
Full of truffle scent
Wear raw cotton tagliolini!
A feast of mushrooms that fill your mouth
Truffle tagliolini
Dough made by hand is vacuum-treated and aged for about 2 hours
Dough that changes as it becomes harder
Over and over
If you carefully roll out the dough
It has a chewy texture
Raw noodles tagliolini
After cutting the dried porcini into small pieces
Butter melted in water
Add mushrooms and shiitake mushrooms
If you keep stirring for a long time
Spreading in the mouth
Mushroom flavor
Add fresh ingredients
Pizza baked with good charcoal
The taste of pizza that keeps coming back to mind
Han Joo-pyeong: Full of Roman soul