First time eating out, today is not a hombap! Bae Soon-tak & Defcon
What is today's restaurant that properly captures the tastes of the two boys?
Spicy steamed ribs full of seasonal seafood
'Fish Farm' in Yeoksam-dong, Seoul
When you walk outside the shop, you can feel the atmosphere!
The interior of the restaurant is clean and convenient for a meal
I can't stand it~ I ordered it right away!!
On steamed pork ribs
Put all kinds of vegetables together
Add vermicelli, mushrooms, and whole squid
Take a picture of the taste
Seasonal prawns
An intense flavor is expected
Overwhelming Force
"Steamed Prawn Ribs"
Pre-cooked for softer meat
A fantastic combination of special ingredients and six o'clock
A spicy and juicy party in your mouth
No capsaicin!
Spiciness flavored with natural ingredients
Calling for a cup of soju
Great menu for kids, steamed prawn ribs
If you've tasted ribs, next
Seasonal prawn time
Even if you remove the skin and eat it, it's delicious
If you eat even the skin, you can enjoy a firmer texture!
Next, it's time to taste whole squid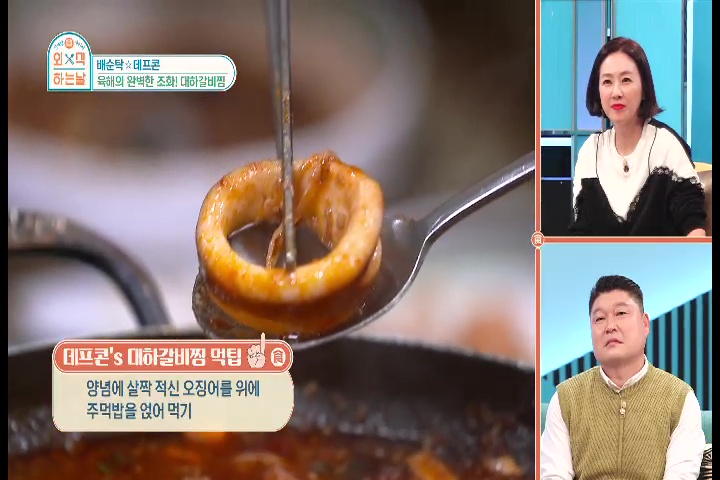 Tips for eating Defcon's steamed prawn ribs!
On top of squid lightly soaked in sauce
Eat it with rice balls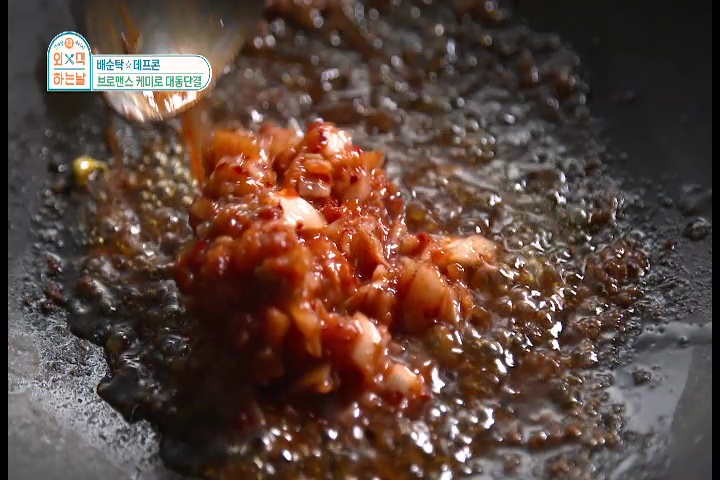 You can't miss carbohydrates in your meals!
Fried rice time~!!
On top of well-stir-fried rice
Cheese that looks like snow
Eating with dripping cheese
"Cheese fried rice"
Grab a hearty meal and go to the next restaurant!
Second diner, the correct example of family dining out! Park Jun-hyung & Kim Ji-hye Family
What is today's restaurant that makes couples stop fighting?
Full of the faint scent of cypress
Gyeonggi Wirye, 'Lim'
The outside of the store is cute and tidy!
Small and compact
A café-like dining room
Sirloin, brown rice bowl, and beef ribs side by side
If you cook it gently in a cypress steamer
The fragrant scent of cypress wood is soft (Feat. vegetables)
Of cypress and beef
Illusory harmony
"Steamed cypress"
Order tip!
Beef ribs, marbled beef, sirloin, black pork neck, duck
You can mix and order with your favorite menu
The time required to find the perfect steamed cypress
10 minutes!
Through immaculate smoke
Steamed cypress that reveals a shy appearance
Standing in line asking you to put it in your mouth
The appearance of beautiful meat!
Marbled beef & buttercup, beef ribs & chives, sirloin & bean sprouts
The sense of featuring vegetables that go well with each meat!
Tasty and aromatic steamed cypress
Japanese miso+ perilla sauce, soy sauce
Add plenty of sauce of your choice to your heart's content!
It's sweet potato rice colored with gardenia.
Koreans have a good meal!
I felt the great power of food eating out today
What changes day by day
"Today's meal & soup"
Today's sweet potato rice and bouillon soup
Wisdom's tips for eating steamed cypress!
Put two rounds of soy sauce on top of the rice
If you add vegetables and a few pieces of leftover meat!
The super easy meat bowl is ready!
This time it's dad's turn
Tips for eating steamed cypress from Jun Hyung's!
If you stack beef ribs, chives, marbled pork, buttercup, and sirloin one after the other
Meat trifecta made by adding meat to meat is ready!
Your family is eating to their heart's content
I finished today in a good mood!