There is a place near Gangnam Station that is popular as a lunch spot for office workers. It looks like a simple gimbap shop, though. It's so popular that office workers wait and eat it during their most precious lunch time! I tried it myself to see what was different from other gimbap!
The mint-colored signboard is eye-catching "Bosubusul." If you visit at lunchtime, the chairs outside are full of people, so popular! So I visited around 4 o'clock and it was nice and quiet.
The secret to Boseulbosul's popularity is that you can find regular gimbap as well as "kito gimbap," which contains sliced eggs instead of rice!
Starting with Bossul Gimbap, which contains plenty of eggs, premium gimbap with plenty of ingredients, and Kito Gimbap, which is presented in a variety of varieties, are available.
There are four types of kito gimbap, so I was thinking about what to buy, but I just bought them all! Here, the basic gimbap was even bosul gimbap, and I bought a total of 5 pieces.
When you open the packaging box, there is plenty of sesame powder on top of the thick-cut gimbap, and a savory smell comes out.
By using egg batter instead of rice, the thick thickness stood out, and the colorful color made it a feast for the eyes even before eating!
The kito gimbap, which is full of zidan, is said to contain 5 eggs in one row! It's expensive with gimbap, but for this reason the price is a bit understandable.. hehe
Kito gimbap made by rolling up stir-fried parsley and carrots in an egg. At first, the scent of carrots is felt first, then the aroma of buttercups, and at the end, the savory taste of eggs. Since the proportion of carrots is large, the carrot has a strong aroma and flavor, so I think people like it or not!
Since it contains a large amount of crayfish, I felt the salty yet rich flavor unique to crackers, and the crunchy carrots and buttercups in the middle make the flavor even richer!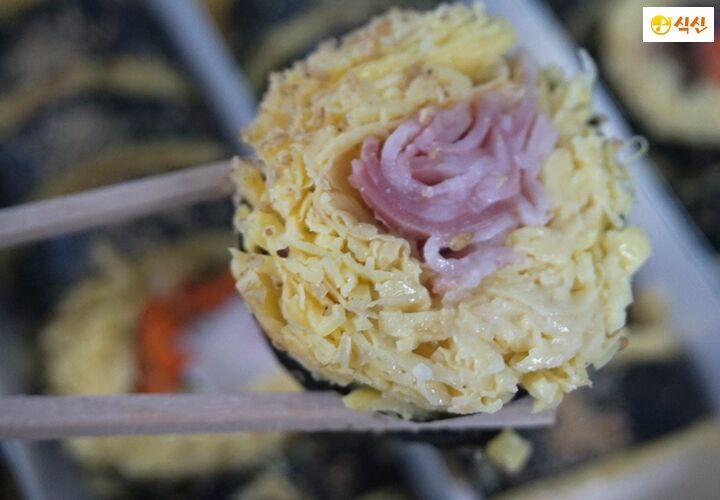 Other kito gimbap tastes like the ingredients in it first, then bacon kito mayo has the savory flavor of the egg first. Then, the salty flavor of ham was added, making it an addictive sweet and salty flavor! I was also satisfied with the combination of the crunchy texture of the ham and the crunchy texture of the egg.
Gimbap mixed with carrots, burdock root, and salad and served with truffle mayonnaise sauce. I tried the combination of truffles and gimbap for the first time, and the truffle flavor was strong the moment I opened the wrapper. It contains a variety of ingredients, so it has a crunchy, crunchy texture, and has a strong truffle flavor until the last time you chew it!
Bosul gimbap filled mainly with egg zidan! It contains rice and pickled daikon, making it feel like eating regular gimbap. Instead, it was full of eggs, which stood out for its moist texture and light flavor.
Overall, this is a place where you can enjoy various types of kito gimbap with eggs instead of rice. The point is that it contains plenty of eggs, so you can feel light yet casually full! As an alternative, the texture may be slightly less chewy than regular gimbap, but if you like eggs, I think it's a good idea to try it at least once.
[Shikigami Tip]
▲Location: 22 Teheran-ro 8-gil, Gangnam-gu, Seoul
▲Opening hours: 08:00 — 21:00 every day
▲Price: Truffle Kito Mayo 7,000 won, Bossul Gimbap 5,000 won
▲Review (Jo Han-min Shikigami): I went there because I was curious about the popularity of kimbap in Kito these days, but basically all of the menus were delicious. I ate Bossul Gimbap, Jelly Tuna Gimbap, and Ramen, and I was satisfied with all three menus. It's not cheap for gimbap these days, but the ingredients are plentiful and thick, so I think it's worth it. One row of gimbap is popular for women, and I think it's the right amount for men to eat.
Shortcut to store information>

* The copyright of this post belongs to Shikigami, and the original link and source must be posted when using the post.
* This post can only be used for non-profit purposes and cannot be modified or used in other creative works.