Kaisendon is a Japanese rice bowl with seafood as the main ingredient. It's also pretty to look good when seasoned with sweet candle sauce and topped with fresh seafood. If you like Japanese food and seafood, you'll definitely be satisfied with this place. Here are five famous restaurants in Kaisen-dong, Seoul.
1. The mild flavor of unfrozen raw tuna, Dosan "Obok Fisheries"
Kinder Joy's blog
mukmukpig's Instagram
Obok Fisheries, which is already famous as a kaisen-dong restaurant on social media, has not only Dosan branch, but also restaurants in various regions such as Yeonnam, Hannam, Yeouido, and Pangyo, so access is easy. There are a variety of rice bowl menus, from basic kaisendon to special kaisendon, tsuke kaisendon, and honmaguro don, and the mild flavor of chilled raw tuna is particularly delicious. The soy sauce, which is roasted barley and aged for 72 hours, also has a deep flavor.
[Eating tips]

▲Location: 14 Dosan-daero 53-gil, Gangnam-gu, Seoul
▲Business hours: 11:30-21:30 every day
▲Menu: Kaisen-dong 22,000 won, specially selected kaisen-dong 33,000 won, raw honmaguro dong 27,000 won
▲Testimonial (Food Handling Warning): It's worth visiting, Obok Fisheries, the best value for money, a flavor you want to eat every day if the price of Kaisen-dong, which has gone up in various ways, is cheap. You can enjoy the flavor by wrapping seaweed with wasabi instead of just eating it.
2. Cost-effective Kaisen-dong restaurant, Sangsu "Yo-dong"
measiah33's Instagram
Park Joo-mi's blog
Located just a five-minute walk from Sangsu Station Exit 2, Yoi-dong became famous as a good value Kaisen-dong restaurant as soon as it opened for less than 20,000 won, even though it had 10 kinds of fresh sashimi and seafood. The point is to add sauteed kimchi and flying fish roe when you've eaten about half of it and grate it.
▲Location: Floor 72, Wausan-ro 22-gil, Mapo-gu, Seoul
▲Opening hours: 11:30 – 22:00 every day (closed every Monday)
▲Menu: Yo-i-dong (Kaisen-dong) 19,000 won, Salmon-dong 16,000 won, Maguro-dong 25,000 won
▲Testimonial (Shikigami 4-dimensional dream rabbit): If you want to have a seafood party, you should come to Yodong on the day you want to have a seafood party. Kaisendon is also delicious, and salmon dashi really makes you poop automatically! I was so happy to receive the service too!
3. Kaisendon and sushi at the same time, "Sushi Dow" at Gangnam-gu Office Station
jay_____kang's Instagram
Bakery's blog
A place that specializes in kaisendon and sashimi. Kaisendon, which serves 8 to 9 kinds of fresh seasonal seafood, including tuna, in a large size is popular. Japanese steamed egg custard is served as an aperitif, a great way to keep your stomach warm. It operates as an izakaya in the evening, making it a great place to accompany a meal.
▲Location: 2F, 13 Seolleung-ro 129-gil, Gangnam-gu, Seoul
▲Opening hours: 11:30 – 22:00 every day
▲Price: Kaisen-dong 22,000 won, assorted sushi (11p) 22,000 won, sashimi (small) 27,000 won
▲Testimonial (Sake wensuya): I was surprised that the quality was better than I expected. Like a place famous for omakase, the preparation and aging of the fish is amazing.
4. Enjoy Kaisen-dong's "Kiyohan" course in Seogyo-dong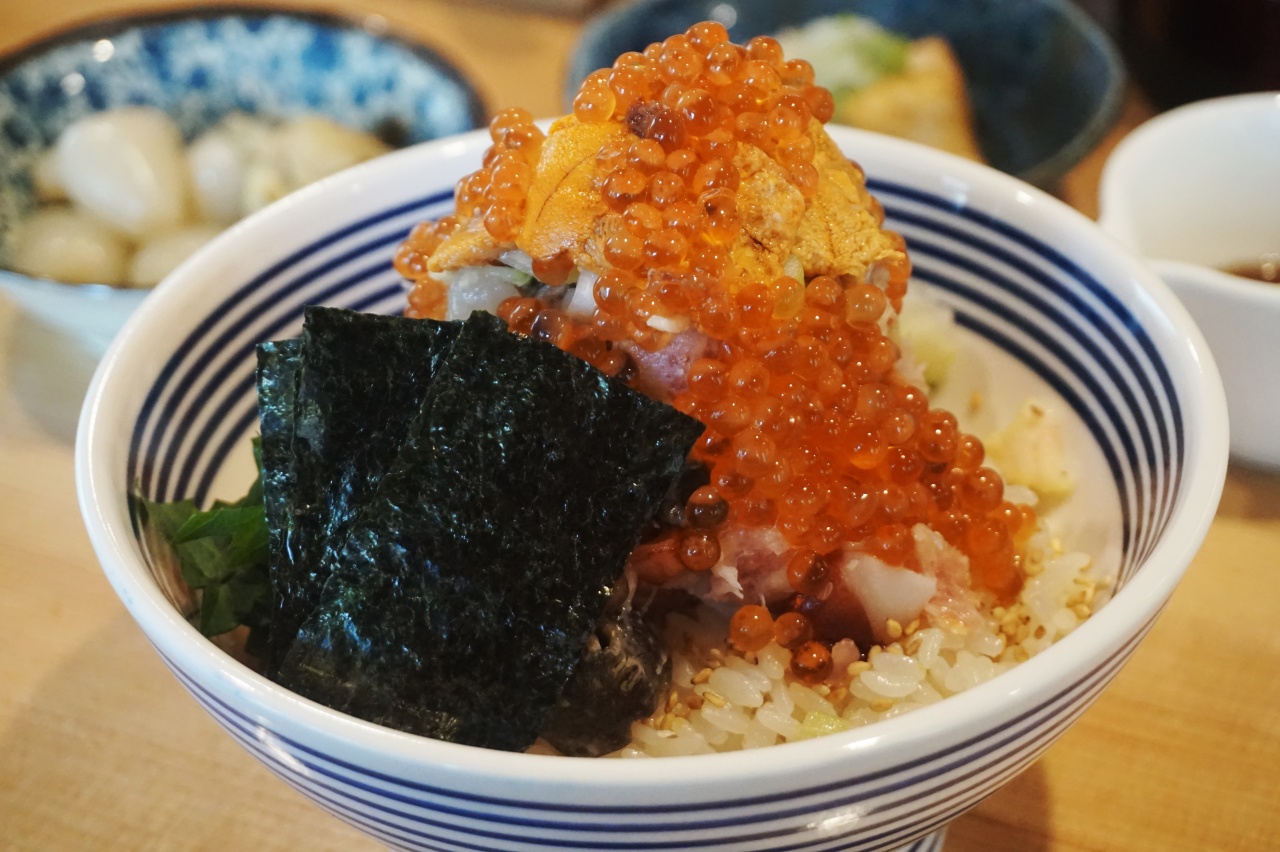 Shikigin Contents Team
Shikigin Contents Team
"Kiyohan" offers dishes based on recipes learned from the famous Japanese kaisen-dong restaurant "Tsujihan." The types are divided according to the toppings that are added based on "Kiyohan-dong," which is made by stacking lots of ingredients such as squid, conch, conch, tuna, and salmon roe on top of rice. You can mix the soy sauce evenly and eat it, then add the fish broth when there are about two spoons left and enjoy it warm.
▲Location: 3, Donggyo-ro 12-gil, Mapo-gu, Seoul
▲Opening hours: 11:00-21:00 every day, B/T 15:00 – 17:00 on weekdays (B/T 16:00 — 16:30 on weekends), closed on Mondays
▲Price: Kiyohan-dong 15,000 won, Gani-dong 19,000 won, Uni-dong 22,000 won
▲Testimonial (Chigin Chayo & Chayo): It's a bar seat, so it's great for eating alone. I ate it as a special meal, and it's full of crab meat and sea urchin, so I can feel the smell of the sea! At the end, the Ochazuke style was also unpopular.
5. As tasty as it is pretty, the shrine "Kaisendon Unido"
into_hee's Instagram
into_hee's Instagram
A popular kaisendong restaurant that contains 16 pieces of seafood, including steamed abalone, honmaguro, raw salmon, and aged flatfish. "Unido Kaisendong," which has plenty of high-quality sea urchin from the North Sea, is also popular for its soft, green flavor. You can also eat it by lightly sprinkling soy sauce on the kaisendon, then wrap it in seaweed with rice and put it on top. A cool glass of draft beer is a icing on the cake.
▲Location: 15, Apgujeong-ro 2-gil, Gangnam-gu, Seoul
▲Opening hours: 11:30 – 21:00 every day (B/T 15:00 – 17:00), closed on Sundays
▲Price: 25,000 won for Kaisen-dong, 38,000 won for Unido Kaisen-dong
▲Testimonial (Princess Shalala, the god of food): It was the most delicious kaisendon I've ever eaten. The seafood was really big, so I sprinkled a little bit of soy sauce on top of the rice and ate it on top of the rice, and it was so delicious that it filled my mouth.
---
*The copyright of this post belongs to Shikigami, and the original link and source must be posted when using the post.
*This post can only be used for non-profit purposes and cannot be modified or used in other creative works.