September has arrived even with the fickle weather that goes back and forth between summer and fall. The weather is still hot and cold, but the night, the fruit of the
season in September, is slowly showing itself at the supermarket. There's nothing as rich and enjoyable as enjoying food
when it's most delicious. "Mont Blanc" is a dessert that uses chestnuts, which are in season in September, to fill
our palates sweetly and gently. Not
all Montblancs are the same Mont Blanc. Here are some unique Mont Blanc restaurants from the details!
1.
A sweet blend of meringue and marron cod 'Delizette'
"Mont Blanc" of the dessert cafe "Delizette" located in Dongseong-ro, Daegu, features a colorful plating made by piling chestnut paste and fresh cream on
vanilla ice cream and finishing it with sugar powder. The inside of the chestnut paste contains soft vanilla ice cream, crunchy meringue cookies, and
marron, and has a sweet flavor with a rich texture. Another popular dish, "dot latte," is a drink eaten by pouring warm steamed milk into frozen milk and coffee in the shape of a cube. The frozen milk contains
vanilla beans, so you can enjoy a subtle sweetness.
Photo Source: by_ssun2's Instagram


▲Location : 26-9,
Gongpyeong-ro, Jung-gu, Daegu ▲Business hours: 12:00 to 22:00, closed on the 2nd and 4th Tuesday ▲Price : Mont Blanc 8,000 won ▲Review (Yeonjigonji during the meal ><): It's great that the plate came out
so beautifully hehe I took the picture, the visuals were amazing, but the taste was even bigger bb
2. Chocolate, chestnuts and nuts meet Garosu-gil 'Labume'

Montblanc "Mont Blanc au Chocolat" by "La Bomme", located on Garosu-gil, offers a different blend of chocolate and chestnut using French marron paste, Valrhona milk chocolate, and dark chocolate. Chocolate ice cream mixed with cocoa
powder and nuts add a savory flavor and texture. Labomme's desserts, which
are carefully made at the same time as the order is made, have an elegant flavor that fits the price range. Another popular dish, "matcha shaved ice," is shaved water sprinkled with bitter matcha syrup, served with soft matcha roll cake , matcha syrup , and sticky rice dumpling, which catches the eye and
taste of green tea lovers.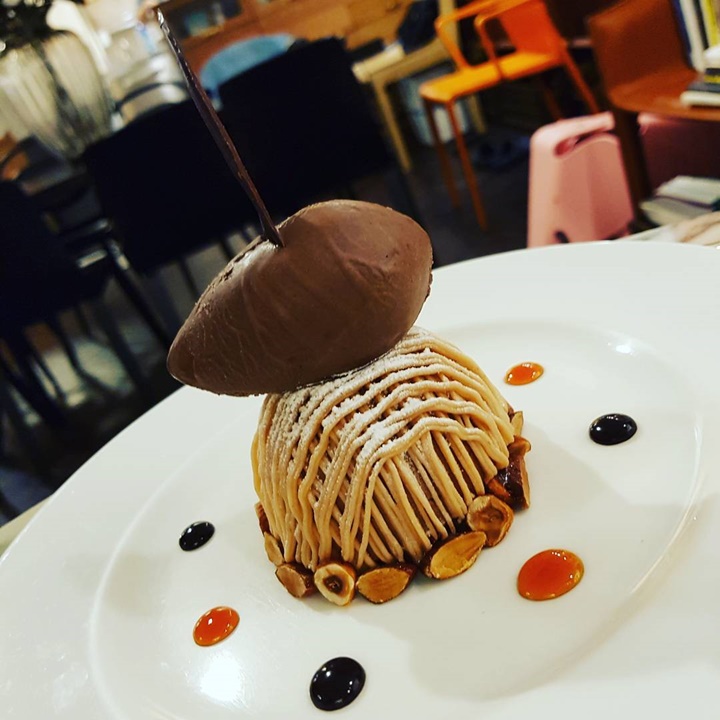 Photo Source: ksulhee's Instagram

▲Location: 534-8 Sinsa-dong, Gangnam-gu,
Seoul ▲Business hours: Weekdays 12:30 to 23:00, weekends 13:30 to 22:30, open all year round ▲Price: Matcha shaved water 19,500 won for 2 people, Mont Blanc au Chocolat 8,500 won ▲Review (Pikkkachu ♡):
After the dessert, I was wondering if the price was too expensive, but it was delicious. I ate matcha shaved ice last time, but I'm planning to
try another dessert next time.
3. "
Maison Mo", a barbeque shaped like a meringue
"Maison Mo" is a French dessert specialty store run by a
patissier couple and is hugely popular. Maison Mo's signature
cake, "Mont Blanc Emo", is a mountain-shaped meringue
wrapped around marron paste. Rather than being hard, soft meringue blends well with cream and enhances the
texture just right. ' The marron paste "Montblanc Emo" does not have a strong characteristic heavy feel
compared to other Montblancs, but rather the freshness of the lemon marmalade inside is added, so you can enjoy it
casually until the end. In addition, various types of cakes, such as "Paris Brest Seoul" and "Mille-feuille Caramel," and baked goods such as Madeleine and Pinancie are popular. Please note that "Montblanc Emo" is limited to 6 pieces a day.
Photo Source: s.purmmd_14's Instagram

▲Location : 876-41 Bangbae-dong, Seocho-gu,
Seoul ▲Opening hours: Wednesday – Friday, 11:30 to 20:30, Monday – Tuesday,
closed ▲Price: Montblanc MO: 8,500 won ▲Review (Jangchung-dong Jok Balman ): The hottest dessert shop
in Bangbae-dong these days. 11:30 It opens in minutes, but… The line is long. Be sure to try it. Recommended
4. "Onnse Sisters Alpha Dome City Store" in Pangyo made
with chestnut mousse
"Onnse Sisters", a popular spot in Hannam-dong, has also opened its doors at Pangyo Alpha Dome City. ' "Original Montblanc" draws people's attention
with its chestnut mousse in the shape of a chestnut instead of the traditional shape of Montblanc that we know. When you pop a fluffy meringue with a fork, chestnut paste is inside, and it has a smooth texture and soft
touch, just like eating a marshmallow. Another popular menu item, "Wonder Crepe Mango," has a soft crepe with fresh cream in between, and
mango syrup on top, which has a sweet and refreshing flavor.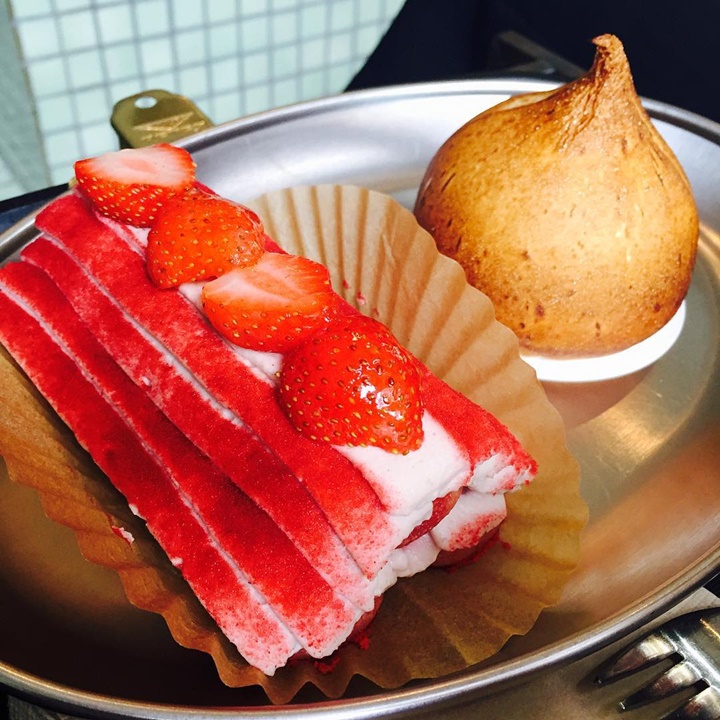 Photo source: seonhui_sunny's Instagram


▲Location : 684-101, Hannam-dong,
Yongsan-gu ▲Business hours: 11:00-21:00,
closed on Mondays ▲Price range: Original Mont Blanc 6,800 won ▲Review (Pink Princess Shikigami): The cake is
really delicious, haha, I'll have to come and take lots of pictures next time when no one else is there. The store has a very unique
feel.
5.
Jeju's' Arapapa ', a crunchy and moist pastry

Montblanc of 'Arapapa, 'located on Jeju Island, placed chestnut paste on top of the pastry. Unlike typical Montblanc sheets where dacquoise or
meringues are placed, Ara Papa's Montblanc
has pastries. Instead of a soft sheet, the combination of crunchy pastries and sweet and heavy chestnut paste is popular among children because of its
unburdensome weight and flavor. Ara Papa's signature menu, "Black Tea Milk Jam," is a jam made by gently simmering milk, fresh cream, and
black tea, and
is characterized by a mild aroma of black tea and a soft, unsweetened flavor.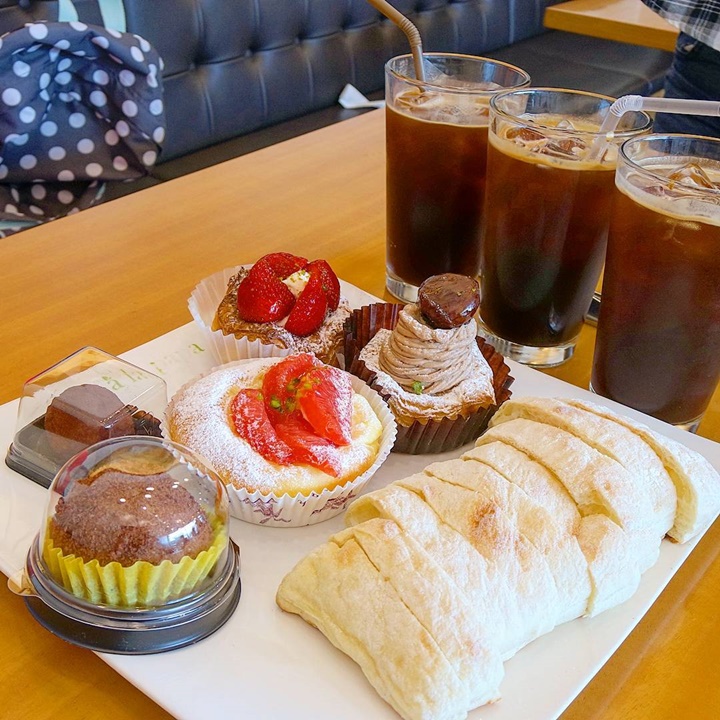 Photo Source: 30.page's Instagram


▲Location :
Jeju-si, Guggi-ro 3-gil 2 ▲Business hours: 08:00 to 23:00 ▲Price range: Black tea milk jam 10,000 won ▲Review (Romeo by Shikigami Ona): Black tea milk jam and green tea milk jam are absolutely delicious, I bought them as gifts for friends, and they were very popular! _ ♥ I'll buy them again the next time I go.
6.
"Aloe" has a rich chestnut flavor
"ALUE", located at Seolleung Station, is a dessert cafe that uses only fresh cream of
animal origin and does not use any food additives. Aloe Mont Blanc is characterized by its rich and light flavor unique to
chestnuts, and the meringue underneath provides a sweet yet crunchy texture. A sheet between the meringue and paste is the secret to keeping
the meringue crispy without getting soggy. Other popular dishes include "aloe
shortcake," which contains plenty of seasonal fruits, and "panna cotta," which contains acacia honey. Please note that panna cotta comes in
three flavors: vanilla , strawberry, and coffee, and is sensitive
to temperature so you can enjoy it properly if you eat it cold.
Photo source: commemoii's Instagram


▲Location : 338 Seolleung-ro, Gangnam-gu,
Seoul ▲Business hours: 12:00
— 21:00, closed on Mondays ▲Price range: Mont Blanc 8,000 won ▲Review (Shikigin Kekero): I visited this place several times and tasted various desserts. This
is a shop that offers very thoughtful and thoughtful sweets. If you like desserts, this is a place you must visit. I recommend Mont Blanc and Crème d'Anjou, and Galette Pinangsi is also very tasty. If it
's an important person's birthday, I also recommend a whole cake!




7.
'Eternity Lean Cake Factory' in Gwangju, Gyeonggi, where fresh cream is delicious
"Eternity Lean Cake Factory" located in Gwangju, Gyeonggi-do, is a handmade cake specialty store that doesn't use margarine or shortening, only uses milk cream, and has a mild flavor. Montblanc from "Eternity
Lean Cake Factory" uses marron puree and
marron paste from France, and the heavy texture blends well with soft fresh cream, so you can feel a sweet yet moderate
body. Note that "tiramisu," which is flavored with mascarpone cheese and milk chocolate, is also popular.
Photo source: seon.young_park's Instagram


▲Location : 12-10, Podoli-ro, Gwangju-si,
Gyeonggi-do ▲Business hours: 11:30
— 21:00, closed every Sunday ▲Price range: Montblanc 5,000 won ▲Review (Romantica): The cream is so soft that when you take a bite, it melts in your mouth and blends in with the cake sheet
.




8.
'Rajokond' in Gwangmyeong, Gyeonggi with Montblanc tarts

You can find "Mont Blanc Tarts" at the small dessert cafe "La Joconde" located in Gwangmyeong, Gyeonggi-do. Montblanc tarts are lightly covered with soft chestnut cream on hard tart paper. When you enjoy Montblanc in the form of a tart, you can enjoy the flavor of butter even better, and
although it's a little heavy, you can enjoy it even more. Drinks that go well with Montblanc tarts include Raspberry Aid and
Assam Lemon Tea. Raspberry Aid is made directly from raspberries and sold in small quantities, and its freshness is
good.
Photo source: ssunaing's Instagram


▲Location : 13, Yeonseo-ro 9beon-gil, Gwangmyeong,
Gyeonggi-do ▲Business hours: 12:00-20:00 on weekdays, 12:00-21:00 on weekends ▲Price range: Carrot cake 5,000 won ▲Review (Shikigin Curry Anpanman): I ate it with Asam Lemon Tea and Mont Blanc, and it was fine. I plan to visit
again next time.




9.
'And Coffee Lab' in Hannam-dong is savory and crispy
"& Coffee Lab", located in Hannam-dong, is a cafe
with a modern and clean atmosphere where you can find a variety of tarts along with coffee. "Montblanc" conveys sweetness and aroma without stickiness, with a soft layer of fresh cream and layers of chunky white chocolate and marron paste on thin tart paper.
The marron paste on the crunchy
tart has a heavy body and texture. Other popular items include "Creme Boulle Tahiti Vanilla" and "Tiramisu Tart. "
Photo Source: Kimraffe's Instagram


▲Location: 684-53 Hannam-dong, Yongsan-gu,
Seoul ▲Opening hours: 10:30-21:00 every day, Sunday 10:30-18:00, closed on the last
Monday ▲Price range: Montblanc 7,000 won ▲Review (Narcisist): Although it's a bit pricey, the
atmosphere is good and the interior is perfect for my taste, so it's a place I often go to heal with my friends.




10.
'Please give me love' in Ilsan as sweet as its name
Located in Ilsan, Gyeonggi-do, "Please Love Me" is a cafe where you can find a variety of homemade cakes. "Montblanc" by
Give Me Your Love is a new menu that was newly launched recently, and is stuck in the night in a savory marron paste based on green tea
dacquoise. The new combination
of soft dacquoise with the scent of bitter green tea and savory chestnut cream is impressive. The carrot cake, which is the signature menu of "Please give me love," has cream cheese layered on a moist sheet. As for the sheet, pickled
apples, walnuts, and carrots are included in the dough, showing off its savory flavor and making good use of its
chewy texture. Along with chestnuts, you can
also find fig tarts, which are seasonal fruits, and fig brie cheese tarts with brie cheese.
Photo Source: Please Love Me Official Instagram


▲Location : 40111, Mugunghwa-ro, Ilsandong-gu, Goyang-si,
Gyeonggi-do ▲Business hours: 12:00 to 22:00, closed on
Mondays ▲Price range: Carrot cake 4,800
won ▲Review (Shikigami Medium Rare Girl): I was satisfied with the cafe that had as many sweet desserts as the name of the store~ hehe