Hongdae Samgyeopsal specialty store Infinity Samgyeop < Go-go >

Foreign-made cheap A few times I've been caught by really bad meat at a restaurant that sells meat. Therefore , I don't go to restaurants with words such as "all-you-can-eat," "10,000 won per serving," and "meat buffet" written on their yakiniku restaurant signs. Gogogo Muhan Samgyeopdo is also a place where you can eat unlimited refills of samgyeopsal, so I wasn't really expecting it. It would have been nice to start with the bottom line. Although my expectations were low, I was satisfied that far exceeded my expectations after the meal. 10,900 won was about this level of pork belly , zukkumi, salad bar, fried rice, even ice cream. If you think about the price, the composition is forgivable even if the flavor drops a little, but they all came out delicious. Of course , it may not be satisfying for people who are proud to be foodies, but it is a memorable place for customers in their 20s and 30s around Hongdae. .


Outside Gogogo, an infinity samgyeopsal specialty store in Hongdae. Near Exit 9 of Hongdae Station (Line 2).
Although it's underground, it doesn't feel stuffy thanks to the large hall and interior.
Self-service corner salad bar.
There are many kinds of condiments, cold dishes, and food.
There are also all-you-can-eat ingredients to make a samgyeopsal hot dog.
An all-you-can-refill soft serve ice cream that was very popular.
Gogogo menu board. Aged pork belly + spicy zukkumi + salad bar + fried rice + ice cream is 10,900 won per person.
Ciders served free of charge at a table for 4 people. During the event.
The store is underground, so I was afraid it might be frustrating, but it's clean. The spacious hall and mirrored wall interior made the store look more spacious, and the ventilation was good, so it was comfortable. Spicy zukkumi was placed on a long square plate on the side, and pork belly was prepared on a round stainless steel tray. The name of the restaurant called Gogogo is embossed on one side of the fire board. The zukkumi bowl is placed on the round hole in the plate and the light comes in separately. I turned on the fire on the zukkumi side and the fire on the grill side where the meat was grilled, and heated the plate. Samgyeopsal is said to be wet aged meat using eight kinds of herbal ingredients. Since it's a restaurant with unlimited refills of meat, they don't use domestic meat, but meat from Spain, the US, and Australia. Putting meat on a grill is beneficial! Along with the pleasant sound it makes, the smell of cooking meat spreads. Kimchi, garlic, and corn were also added. Seasoned zukkumi also ripens with a spicy flavor .
Spicy spice zukkumi.
It was fresh and had a nice texture.
Aged pork belly with unlimited refills.
Chan can still be brought and eaten at the salad bar.
Rich miso soup with meat. 2,000 won.
It was great as a snack for soju.
Zukkumi ripens with a spicy flavor.
Pork gyeopsal on a grill.
The meat I wasn't expecting was more delicious than I expected. It's a whole pork belly, so it's thick, so the crunchy flavor is also good. Since you can eat this meat as an unlimited refill, I think I'll have to keep adding more. Although pork belly is low in protein and contains a lot of fat, it has a savory flavor thanks to its fat. It's a meat that most people in Korea like. However , after all, when I eat meat that is dripping with oil, I often grill kimchi and eat it together. There was also kimchi in this house, but the spicy zukkumi that cooked together next to the pork belly caught the flavor of the meat.



I thought I'd have to keep refilling the meat, but there are many other foods. After tasting all this and that, I couldn't add it because I was hungry. After eating zukkumi, stir fry the rice in the leftover sauce and eat it. Miso stew, which contains meat and is full of meat flavor, is a good snack for soju. Infinity Salad Bar also has hot dogs that you can make and eat using pork ribs and sausages. You can enjoy a variety of things, from traditional bento boxes containing fried eggs and stir-fried kimchi, cold noodles topped with ice cream, and soft serve ice cream . The side menus are all very cheap, so it's not burdensome.
Benefit~! Samgyeopsal is cooking with a pleasant sound.
Zukkumi and meat cook together on a grill.
Samgyeopsal eaten with kimchi, bean sprouts, etc.
Add cabbage, sauce, and sausage to make a hot dog.
After eating zukkumi, eat fried rice with the leftover sauce.
Fried rice with leftover zukkumi.
Old-fashioned bento. 3,000 won.
It is topped with fried egg , fried kimchi , ham, and seaweed.
Cut it roughly with a spoon and grate it.
Cover the lid and shake the lunch box to complete.
A bite of an old-fashioned bento.
Watercress noodles. 5,000 won.
Refreshing cold noodles covered with ice.
Bibimbap cold noodles. 5,000 won.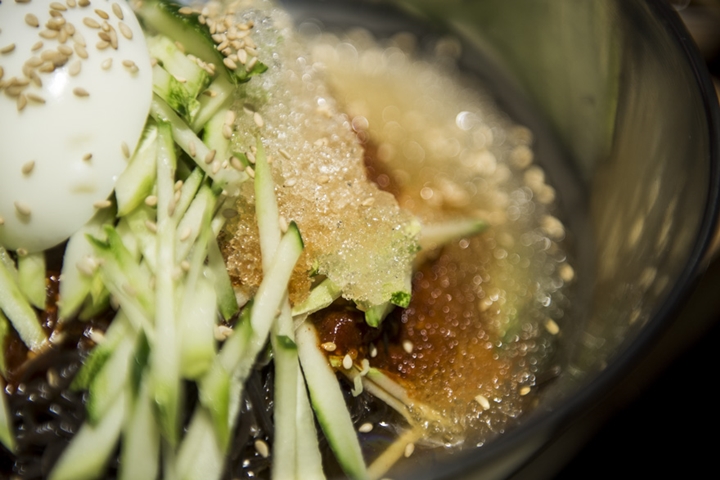 After all, thanks to ice, you can eat it refreshingly.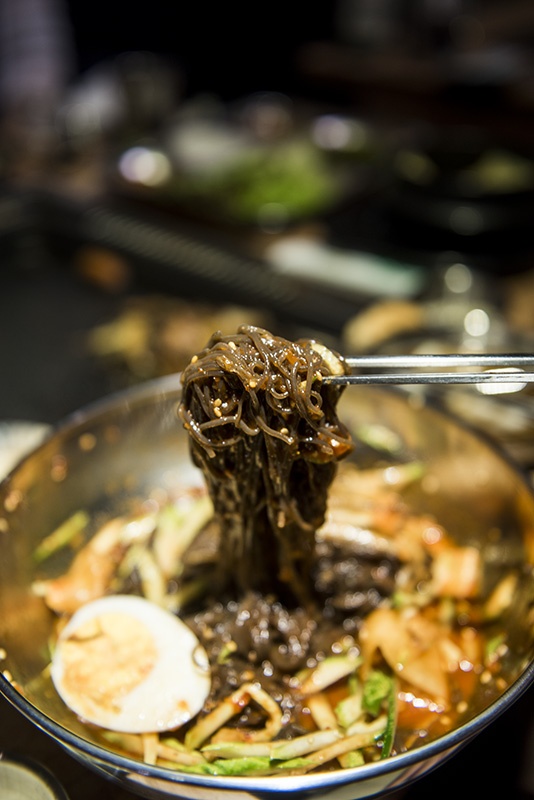 Seonyuk Rear View & Seonju Rear View
Soft ice cream that feels good on the palate.
All-you-can-eat ice cream is also available.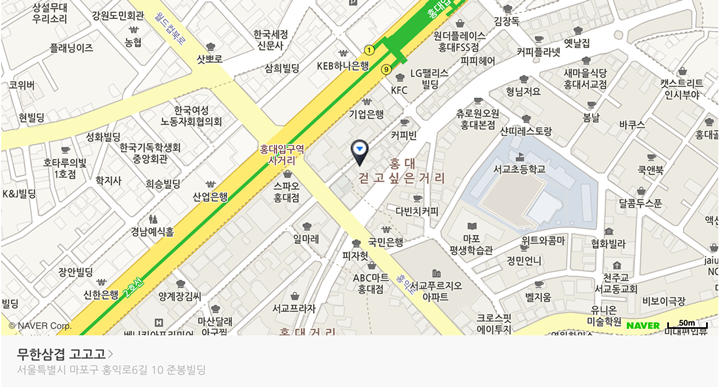 Hongdae Samgyeopsal All-You-Can-Refill Gogogo Address: Junbong Building Basement, 10, Hongik-ro 6-gil, Mapo-gu, Seoul (163-9 Donggyo-dong)
Phone number: 02-322-2799