A "demand food party" that awakens your sleeping food DNA
Regardless of nationality! Regardless of age! No matter your taste!
A neighborhood that unites diverse diets and tastes
A place to awaken your macrophages
Today's topic! Whoa!
Even though I have preserved the pain of war and division
Rather, a home of freedom that attracted outsiders and hugged them
Itaewon is a town steeped in history.
A town stretching along the hill at the bottom of Namsan Mountain
A place where the flow of time is extraordinary
I invite you to Itaewon.
In a place where the world and Korea coexist
Food from many countries around the world has naturally taken root
Each country's unique food culture is blossoming brilliantly.
You can also look forward to a welcome encounter with unfamiliar and familiar flavors.
The passion for taste doesn't matter what nationality you are.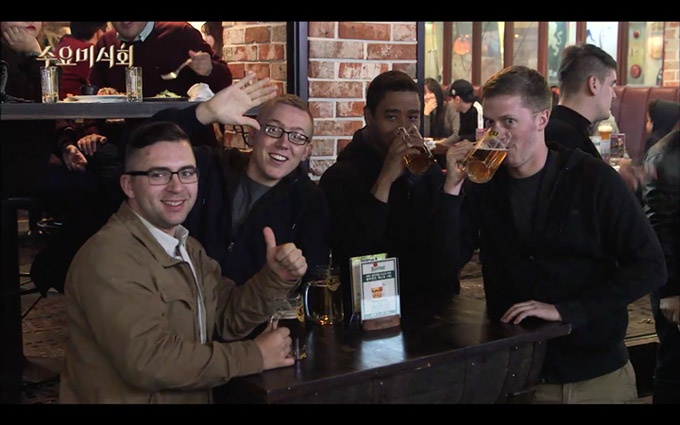 When it gets dark and the lights come on in Itaewon, the festival starts now
A glass of beer makes everyone friends, and a universal food unites everyone.
This is a place where people of various nationalities and appearances can feel free
This is Itaewon, a global village in Seoul.
Itaewon-ro – Kyungridan – Haebangchon
Itaewon has a unique charm where the entire region has rapidly grown into a popular tourist destination
When did the name of the town "Itaewon" start being called?
Itaewon , where the Japanese General Command was located during the period of Japanese domination
After Japan's defeat in 1945, an American military base came in there
A large influx of foreigners after the 86 Asian Games & 88 Olympics
Naturally, people from all over the world began to live together in Itaewon
Alley is hot! Damaged Itaewon
Itaewon-ro 'Itaewon Mate Street', which stretches from Itaewon Station to Noksapyeong Station
From Noksapyeong Station through Itaewon Station to Project C
A global food street with nothing like Greece, Russia, Bulgaria, and Spain
Other shopping areas and places full of clubs
The uphill road leading from Noksapyeong Station to H Hotel from the convenience store on the right in the direction of Namsan Tunnel No. 3 is "Gyeongridan-gil"
The road leading to H Hotel via the Armed Forces Finance Management Team
It's called Gyeongridan-gil because it's a place with soldiers who do accounting
An alley tightly packed with embassies of various countries and clean, luxurious shops
Gyeongridan-gil is full of trendy restaurants
Gyeongridan-gil is full of delicious food, from ice cream parlors selected by the Demand Gourmet Party to steakhouses and brunch restaurants
A typical alley business area stretching out along a large boulevard
If you cross the pedestrian bridge on the left at the entrance of Keungridan, "Haebangchon," an alley with pots piled up
A new alley with small cafes and workshops in a 30-40 year old residential area
If you walk up Haebangchon Road
You can also find a rooftop cafe with a panoramic view of Haebangchon under Namsan Mountain
The most unique hill in Itaewon, the small Arab 'Usadan-gil ' in Seoul
A place where you can find a variety of Arab foods such as Arabic sweets and Egyptian food
A small hillside path full of Arab culture, from the mosque at the end of the road
If you go to Itaewon, don't miss "Sowol Road"
Sowol Road crosses the southern slope of Namsan from Sungnyemun to Yongsan
Now is the best time to run across Namsan Mountain!
It was also selected as the most beautiful path chosen by foreigners
Well then, from now on
The rising town of Itaewon, a town where taste and style coexist
Here are some "Rising Star Restaurants."
What to go before closing the door selected by the Demand Gourmet
Introducing "Itaewon " restaurants
The first dining room
A popular Chinese restaurant with unique ideas and flavors
Itaewon 'seat'
A Chinese restaurant that captivated young people in Itaewon with its modern and cozy atmosphere
Champon with a balance of refreshing soup and fresh seafood
A bite of sweet and sour pork in the shape of cotton wool, etc.
Trendy restaurants where you can enjoy Itaewon lunch
If you fry various vegetables in oil and then add fresh seafood and broth to boil
Complete champon with a light and refreshing taste that brings out the flavor and umami of seafood
The fresh umami made from fresh ingredients is excellent
Crabmeat that is plump and full!
Shiraegi has a subtle scent that makes the most of the flavor of the soup
An attractive, lightweight rice noodle that is easy to eat on an empty stomach!
"Rice noodle champon" where I was able to feel comfortable and comfortable without a bag
Another popular menu item "Cotton Soba Sweet and Sour Pork"
Fry the pork rolled in a circle in starch powder until it is crispy in its fine shape

Cotton-cotton-poached beef with sweet and aromatic sauce
What is a sauce with a fresh sweetness unique to fruit
It's not too sweet, so the pleasant sweetness is attractive!
Han Joo-pyeong: A place where you can enjoy Itaewon-style lunch that evolves by reinterpreting Chinese food
Second dining room
New thick, Detroit-style pizza
Itaewon 'Motor City'
Dough aged 24 hours for a chewy dough
Lots of savory cheese!

Thick and crunchy! A place where you can enjoy square Detroit-style pizzas that will fill your mouth
<미국의 4대 피자>
New York, Chicago, St. Louis, Detroit
New York pizza featuring a moderately thick dough and simple toppings
Chicago pizza with deep dish-style thick dough and rich cheese and
St. Louis pizza with the crispness of thin dough
Put plenty of cheese on it to cover the dough
Today's protagonist "Detroit-style pizza," which makes the most of the flavor of cheese
'Detroit', the town of automobiles and motowns
The interior recreates the feeling of an industrial city
This restaurant's signature menu "Jackson 5"
Put dough into a rectangular mold to get the shape
Square-shaped pizza flavored by adding savory cheese and various toppings
Put tomato sauce on top of the pizza
You can feel the sweet and sour taste of tomato sauce as soon as you take a bite!
Tomato sauce that captivates the palate with its aroma and
Cheese that stretches week after week the moment you grab it and lift it
The moment you put it in your mouth, the texture is crispy on the outside and soft on the inside~~
Even jalapeños that greet you with a pat in the middle
Another popular menu item, "Mega Crunch Fries"
French fries crispy fried in good oil and flavored with garlic and parsley
French fries with a fresh flavor using high quality oil
Han Joo-pyeong: A place that captures today's Itaewon without fear of change
The third dining room
A place where you can enjoy authentic Mexican tacos
Itaewon 'Don Charli'
Small Mexican "Don Charli" in Itaewon
Carefully prepared by a chef from Mexico
Authentic Mexican tacos with rich ingredients and colorful colors
Spicy! Cool! Stimulating the taste buds of Koreans
A place where you can enjoy a variety of authentic Mexican dishes
This place's signature dish "pork taco"
Taco that melts in your mouth and has a soft texture
Soft meat like soy sauce stew, exotic-flavored coriander and
A pork taco where savory cheese and sour lemon meet and explode in a variety of flavors
Season finely minced pork with 15 kinds of spices
Pork tacos that have been aged for 24 hours, then stir-fried on a grill and topped with cheese to make the most of their flavor
Another menu
Devil's "shrimp taco"
Avocado gently wraps around plump shrimp
The shrimp juice spreads as soon as you chew it!
A perfect blend of rich ingredients!
Even in Mexico, cream sauce tacos are often eaten in seaside areas
A menu that is hard to find even in a regular Mexican restaurant
Another of this restaurant's menu , "Enchilada Roja "
Put various ingredients in the tortilla and roll them carefully
A typical Mexican home-cooked meal that is deep-fried and flavored with a rich sauce
All the way inside the tortilla! The chewy texture of the full ingredients
Don Charli's delicacy "Guacamole & Deep-fried Pork Skin"
Crush an avocado with a soft texture and add vegetables with a crunchy texture

Traditional Mexican food seasoned with salt and pepper and flavored with coriander
Han Joo-pyeong: A place where you can enjoy locally flavored enchiladas