The charm of a different atmosphere from daytime, and the colorful and subdued night view of Gyeongju
The weather is getting hotter and hotter, and more people are just waiting for the sun to set.
Gyeongju, where many tourists come even when the weather gets hot, is a great city to spend a romantic summer night while enjoying the mellow night view. Therefore, I would like to take this opportunity to introduce "4 places with a good night view" where you can enjoy a different atmosphere from daytime. Let's go to a popular spot with a spectacular night view of Gyeongju along with the sound of grass bugs.
1) Cheomseongdae
It's one of the cultural heritage sites that comes to mind when you think of Gyeongju. If you look at Cheomseongdae, which I've been familiar with in the book, after the sun has set, it has a different feeling than what you see during the day. If you look at the size and scale during the day, you can only see the round stone shape of Cheomseongdae at night. It is showing off its gorgeous appearance under the wonderful landscape lighting, so it naturally catches the attention of many people. There is also a theory that it was built for astronomical observation, so it seems that the view of Cheomseongdae at night is even more attractive. Admission is also free, so aren't you sure this is a must-see course if you come to Gyeongju?
2) Donggung and Wolji (old. (Eye seal)
It's no exaggeration to say that the night in Gyeongju became famous because of Donggung and Wolji. Donggung Palace and Wolji were called Anapji in the past, and the names came from the Joseon Dynasty meaning ponds where geese and ducks flew. It's a place where the prince of Silla stayed and hosted banquets and feasts for the soldiers, so the lights illuminating Donggung Palace and Wolji are so gorgeous. It is a place that is visited by many photographers because of the majesty of the hall receiving light, and the reflection in the shadows of the water is gorgeous, so I think it's a place that people who take a few photos must stop by. It's open all year round, but keep in mind that you have to enter before 9 p.m., as it's open until 10 p.m.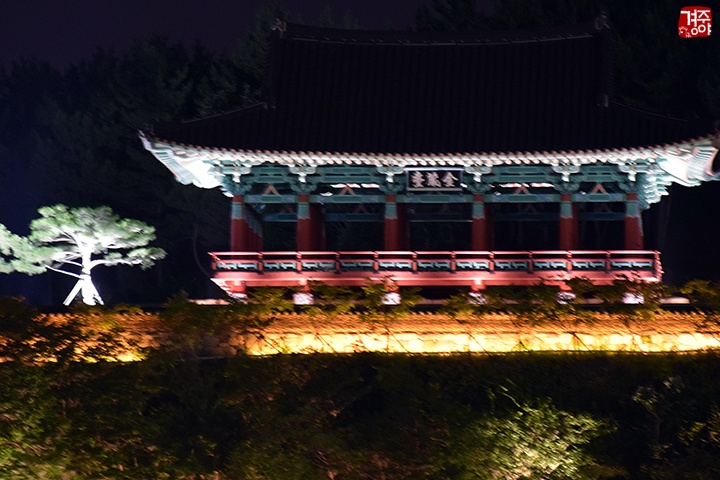 3) Woljeonggyo
Not far from Daereungwon, there is Woljeong Temple in Gyo-dong. It is considered one of the three most beautiful night views in Gyeongju, and it's gorgeous. A pier was built and a roof was added, but currently the pavilions on both sides of the bridge are still under construction, so it's not passable. However, it's great to just see the night view of the river flowing in front of Woljeonggyo Bridge. It will be completed later, so I think it would be romantic just to walk on this bridge at night. After all, there's no admission fee, but the lights turn on around 8 o'clock right after sunset and turn off between 10 p.m. and 11 p.m., so be sure to enjoy the beautiful Woljeong.
4) Gold pole
Along with the phoenix tower, it is a place where you can enjoy a panoramic view of downtown Gyeongju, and is called Geumjangdae after 'Geumjang', which is the name of the temple or building located here. If you stand at Geumjangdae on the riverside, you can see the night view of Gyeongju city at a glance, but since it's not a very high position, there's no feeling of looking down, but the panoramic view feels cool. It has established itself as a new tourist attraction in Gyeongju because you can easily enjoy the night view of Gyeongju city in a tasteful place. Admission hours are from 6 a.m. to 10 p.m., and food and dogs are not allowed to be brought in. Admission is free. If you feel a little tired of the places you've always seen and are thirsty for a new "night view of some place," I recommend the night view of Geumjangdae here.