A "demand food party" that awakens your sleeping food DNA
Beef cooked thoroughly in a hot earthenware pot and
The sweet scent of quick broth and green onions!
The savory taste of meat makes all five senses happy!
Today's food! "Yukgaejang"
First, prepare green onions that will produce the subtle sweetness and mild aroma of yukgaejang.
The deep, rich flavor of yukgaejang is an aesthetic created by a relaxed wait.
Simmer slowly and tear off the softened brisket one by one to add a rustic texture.
The fragrance of savory taro and fern
If a spicy sauce meets and blends with it
Now it's time to bring it to a deep boil.
The sharp aroma of red pepper stimulates appetite
Plenty of vegetables and meat will soothe your heart
A bowl made with care!
"Yukgaejang" that fills you up on chilly days like these days
Remove all the fern and taro herbs and eat
A bowl of rice is enough for the leftover broth~
<Does Yukkaejang have a style? Various styles of yukgaejang>
1. A "cod style" yukgaejang with lots of green onions and radish and a thick soup
2. "Sengoku-gu" style yukgaejang with plenty of bracken, taro, vermicelli, and eggs
3. "Seoul-style" yukgaejang that mainly contains green onions and shredded meat
What to go before closing the door selected by the Demand Gourmet
Introducing the "Yukgaejang" restaurant
A place where you can enjoy simple yukgaejang with 60 years of tradition
'Boominok' in Euljiro

, Seoul
This is a place where you can cool your frozen body in the chilly late fall
The sweetness of

boiled

green onions and the aroma of plain torn brisket
A hearty bowl filled with plenty
A place that preserves the basics of Yukgaejang, which is loved by generations of all ages
What is the 60-year tradition of "Boominok

"

that comes to mind when you think of

"yukgaejang

"
A place that has been in operation for the second generation and continues the tradition from mother to son

A place famous

not only for yukgaejang

but also for its

"sauce."
There are various gukbap menus such as seonjitguk, yanggomtang, and yukgaejang
It has the
atmosphere of a 70s izakaya, so it
's a great place for daytime sake and haematsu
Add
chopped green onions

to the broth that has been thoroughly cooked for 6 to 7 hours

, season with salt and
pepper powder only
I carefully tore the brisket, which had been cooked for at least 5 hours and cooked well, by hand
Yukgaejang with the sweetness and flavor of green onions
Bringing out the saltiness of rich beef bone broth and the sweetness of green onions
"Yukgaejang" that is true to the basics with minimal seasoning and flavor
The meat, which contains plenty of meat, is tender yet has a strong meat flavor
It's an old flavor with 60 years of tradition, but it's perfect for those in their 20s!
A light soup flavor that slightly enhances the sweetness of green onions
Office workers who drank too much the day before were slurping for a bowl! Buminok's yukgaejang that is easy to eat
Another popular dish at this restaurant is "Chijen"

The seasoning is perfect even if you don't add soy sauce separately to the salt!
Han Joo-pyeong: A cultural heritage-like place where tradition lives on
Second dining room
Loved by Daegu natives for its refreshing yet cool flavor
'Jingolmok Restaurant' in Daegu
If you turn into a small alley on a busy street

A warm landscape with an 80s sensibility that you can meet
A small hanok located in that alley
Inside, you'll meet carefully cooked yukgaejang
A place loved by Daegu natives for its refreshing taste made with Korean beef brisket and green onions
Beautifully shaped rafters and dark red lacquered dining table
A place that captivates the heart just by its atmosphere
Unlike a typical cod yukgaejang with lots of green onions and radishes
Yukgaejang at Jingolmok Restaurant that doesn't contain radish
Scallions that have been simmered over a long period of time in a hearty soup that has been carefully brewed, and the meat that has been simmered
Yukgaejang served in a small earthenware pot
A lot of minced garlic placed on top of yukgaejang
Minced garlic that lightens the rich yukgaejang
Yukgaejang that makes the best use of the umami of garlic
"Jingolmok Diner" where you write down today's salinity every day
The salinity of soup that you usually feel is delicious compared to 0.9%
Relatively healthy salinity of around 0.65%!
The food is well-balanced and the soup is delicious even when the salinity is low!
Another popular dish at this restaurant is "pumpkin tempura"
The scent of pumpkin spreads throughout your mouth from an old, orange-colored pumpkin paste
Put only starch in the inner flesh of an old pumpkin to make the most of the texture, and the texture is like eating a crunchy potato cracker!
Han Joo-pyeong: A place I want to go to enjoy brunch with my girlfriend
The third dining room
Hot yukgaejang flavored with rich beef bone broth
'Tokyo Traditional Yukgaejang' in Yeoksam-dong, Seoul
A bright red soup that stimulates appetite and
Deep-boiled green onions and thickly sliced yellow zidan are topped
"Yukgaejang" with a 30-year tradition
A hearty bowl that has been responsible for lunch for office workers for many years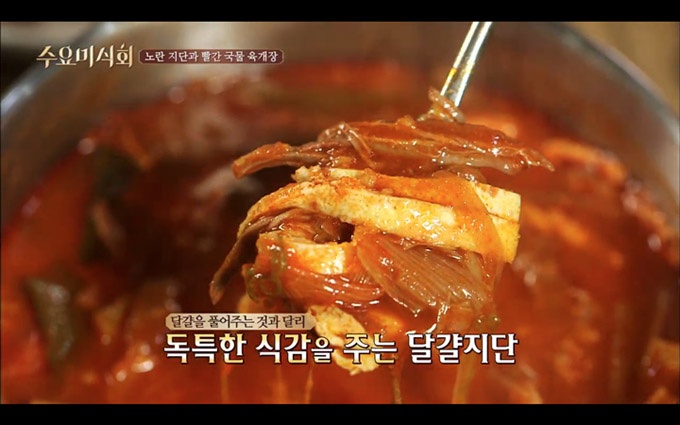 Unlike egg whipped eggs, eggplants have a unique texture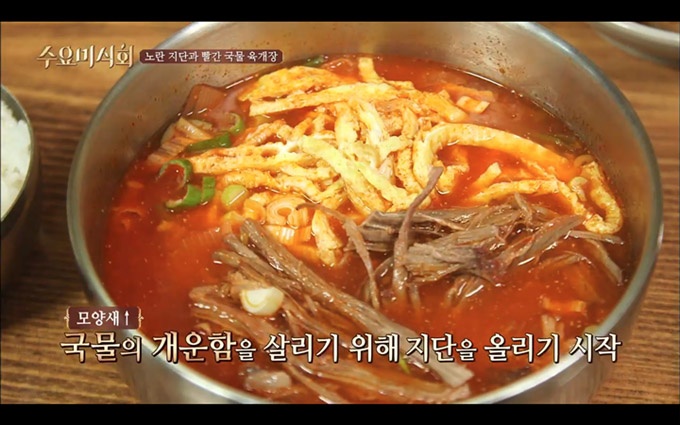 To make the most of the refreshment of the soup, I started putting up zitans!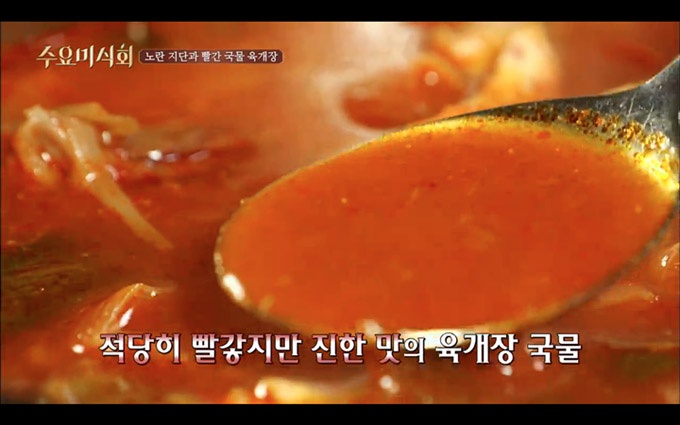 Yukgaejang soup with a moderately red but rich flavor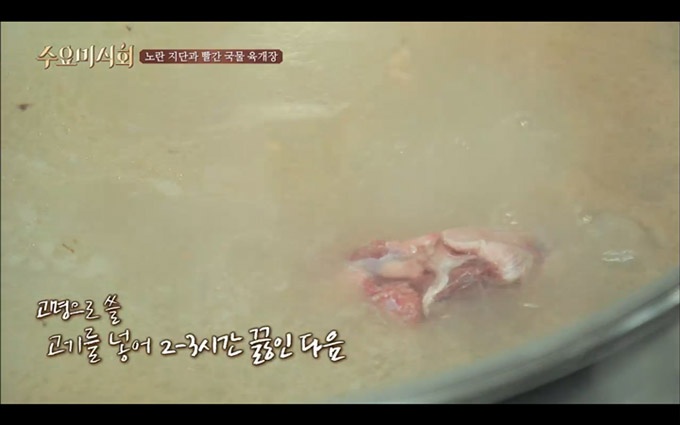 Put the meat you want to use as a garnish in the stewed beef bone broth and simmer for 2-3 hours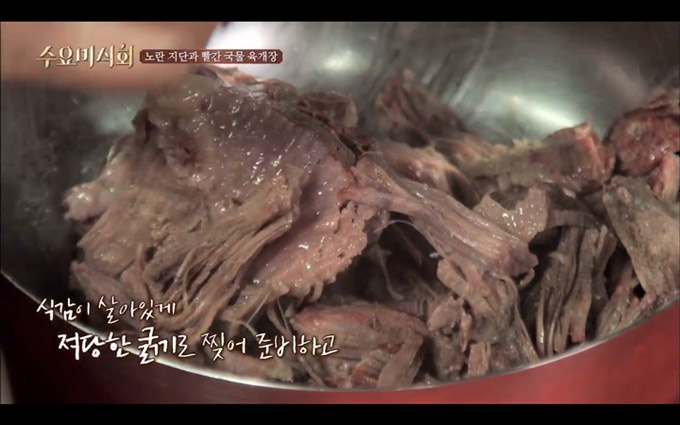 Take it out, tear it to a suitable thickness so that the texture is still fresh, and prepare
Pre-boil the green onions to remove the acidity, and use only the essence of the sweet green onions
Yukgaejang maintains a consistent flavor!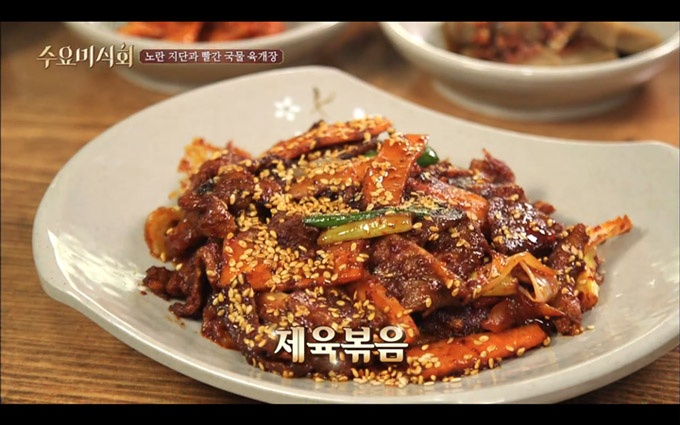 Another dish at this restaurant is "stir-fried meat"
Like a dress that fits perfectly, the flavor of pork seasoned with sauce is exquisite
Han Joo-pyeong: The glossy stir-fried pork goes great with yukgaejang!