Our group of people who ate chicken mizutaki in the first class want to eat fresh yukhoe on the second course
Do our bottles of alcohol increase and our tongues start to grow every time we get together?
It's always fun to get together with good brothers and sisters, delicious food, and funny stories.
Today, I'd like to introduce the second Baekje butcher shop that many people know as a gourmet restaurant in Jongno 3-ga.
The characteristic of this restaurant is that it has plenty of yukhoe and a variety of alcoholic snacks.
The 2nd Baekje Butcher Shop is located right in front of Exit 4 of Jongno 3-ga Station (Line 5)
I only went to the first store and then moved to the second store.
I ordered yukhoe and mushroom crucible hot pot
They give me dishes that are great for a snack
If it were only pumpkin and oden per week, how many cups would be enough?
500 grams of yukhoe (28,000 won)
Compared to sister houses, the price may be a bit burdensome, but
If you look at the number of grams of yukhoe, it's pretty similar.
If you put in a lot of stomach, the amount of yukhoe is not too small
Personally, rather than the yukhoe restaurants located in Gwangjang Market
I prefer Yukhoe from Baekje Butcher's shop
They even added egg yolk
For those of us who don't eat yolk, I decided to fry it on one side and grate it.
Yukhoe-yang is amazing, isn't it?
Everyone has eaten local mizutaki, but they start chopsticks with yukhoe like hungry people
The light flavor is good, the meat doesn't smell bad, and the savory flavor of garlic and sesame oil adds a refreshing taste of pear.
Crucible mushroom hot pot (24,000 won)
It contains more tin than a crucible.
A visual of him adding sliced eringi mushrooms to it
I really like the soft texture of suji and crucible
Memories of my mother grooming this flabby guy at home when I was a kid
If you get tired of the mushy texture
There is also a chewy eringy mushroom
The best way to eat suji is to soak it in soy sauce and eat it.
At my house, I make soy sauce, soak the rice crackers or crucibles thoroughly, and eat them.
It even has black pepper, so it's perfect as a snack for sake!
I'm hungry for hot soup, but sometimes I'm hungry for clear soup.
Seasoned rice (2,000 won)
When I first came to Baekje Butcher Shop, a gourmet restaurant in Jongno 3-ga
I remember ordering yukhoe and ordering yukhoe bibimbap without knowing anything, so I couldn't eat it all.
If you only order seasoned rice, you can enjoy it at a reasonable price if you add the yukgai you ordered in advance and grate it
Put this leftover yukgai into the seasoned rice and grate it well
Chives and lettuce are added, and there are also sesame seeds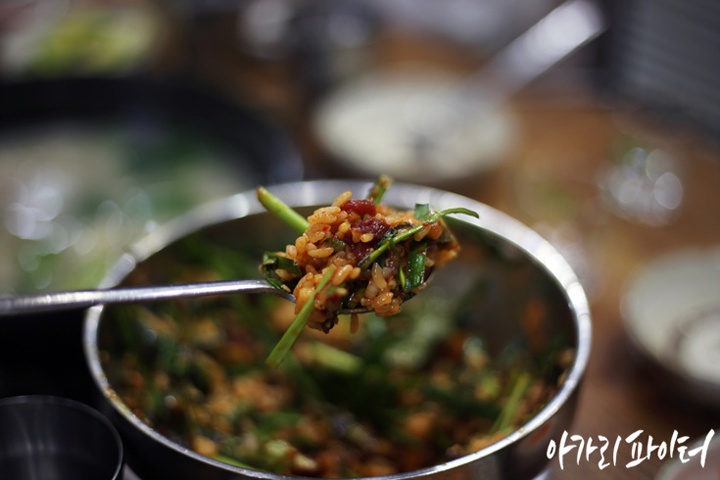 After all, it's a good carbohydrate intake for haejang
I also recommend that you try the well-grated yukhoe bibimbap.
Baekje Butcher
109-1, Nagwon-dong, Jongno-gu, Seoul
02-745-2224