The secret to captivating a woman's heart? weapons?
If you have all of the looks, resources, and personality, this may not apply, but
If you're an extremely ordinary person who doesn't have all three, like me, pay attention!
After all, if you want to win a girl's heart, you need to know what they like.
1. bag? It costs a lot of money, and I can't be satisfied with just one.
2. flower? What is commonly referred to as kebake (case by case).
Many women answered flower<<<<meat.
3. A macaroon filled with sincerity? Cole! (I'm afraid, but let's just do something like that.. haha)
It's a very far-fetched argument, but…
Macaroons are pretty to look at and even have a sweet charm
It's a great gift for men to give to women.
Macaron (macaron), the best place to eat macarons in Hongdae – A gift box that catches the eye.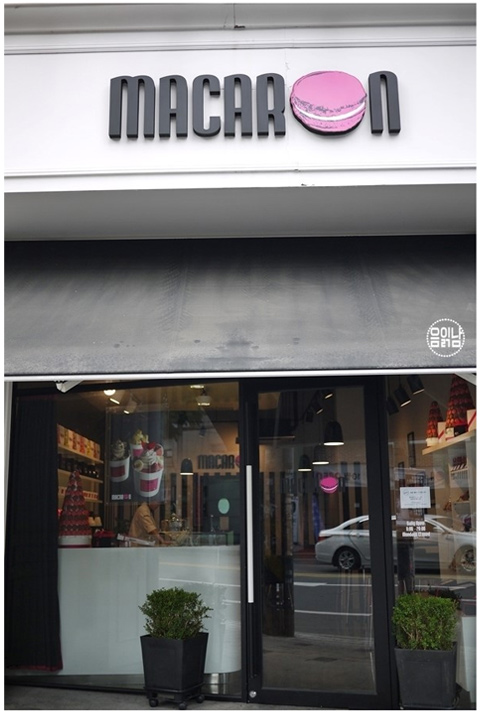 Hongdae Macaroon Location/Exterior
It is located about 3 minutes on foot from the intersection in front of Hongik University to the right (in the direction of Sinchon) with Hongik University back to Hongik University.
It is located on the side where many art schools are located, and its name is simply Macaroon.
The store looked small, with three or four tables.
You built a tower out of macaroons.
My first thought after entering this place was…
âYou showed me everything you can do with macaroons.â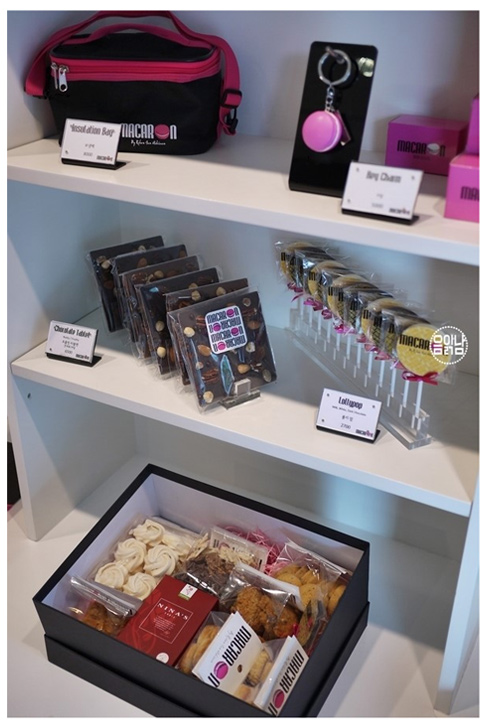 Starting with the macaron top of the shelf, macaron key charms, etc.
There were various gift items and props.

In addition to macaroons, I was able to see them selling cookies other than macaroons.
Still, it's a place where macaroons are the main characters, so I wonder if macaroons will be sold overwhelmingly.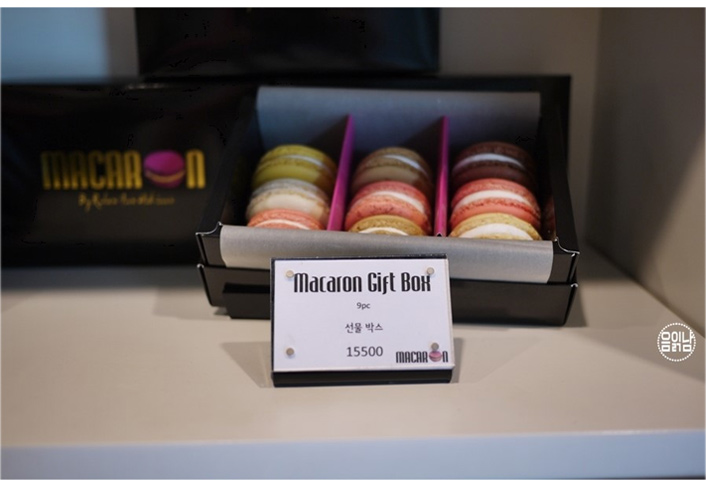 The configuration I'm going to introduce today is a macaron gift box (macaron gift box).
This gift box consists of 9 macaroons and costs 15,500 won.
The macaroons here are sold individually for 1,700 won.
This is about 1,000 won cheaper than the average price of macaroons in other places.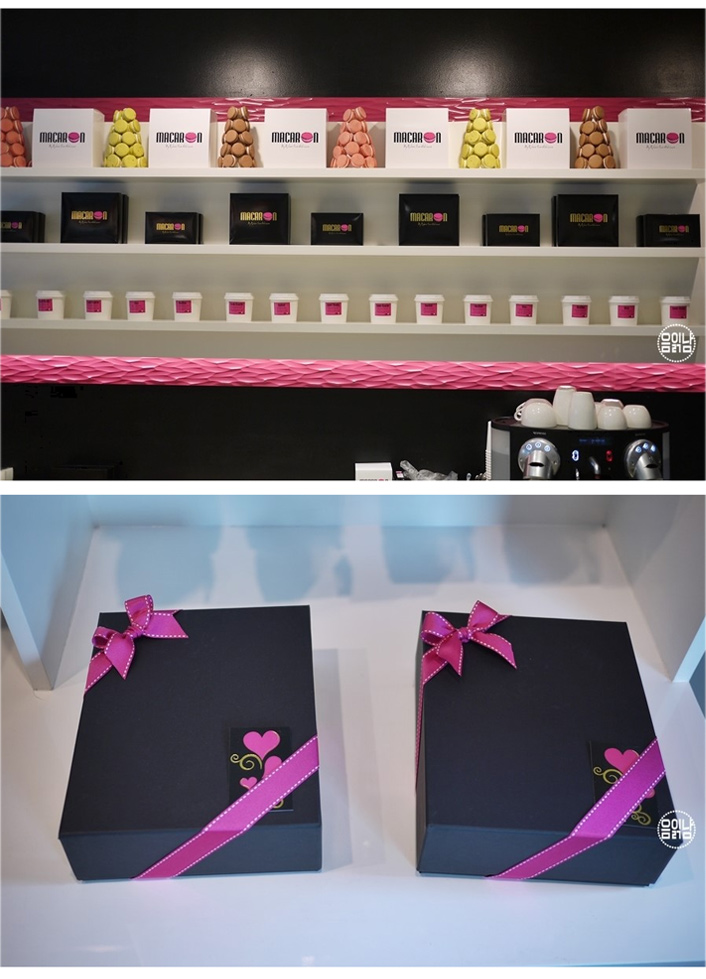 Personally, I don't like pink ribbons
However, I can't think of a suitable color to replace this pink ribbon.
The box with Macaron written on it seems much cleaner than this one.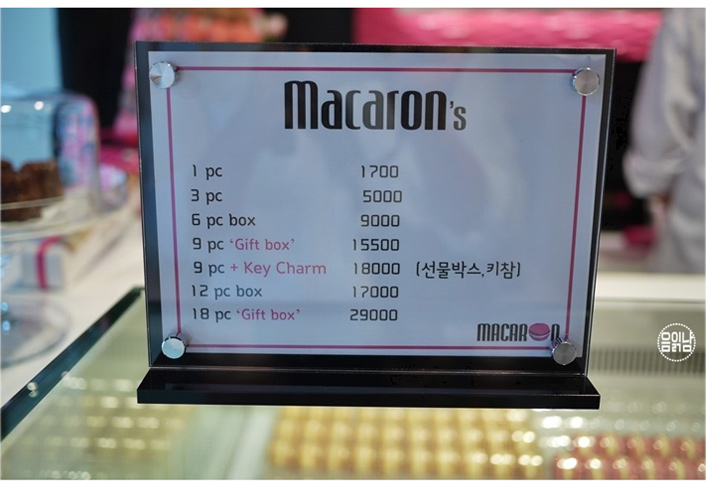 macaron gift box price

Depending on the number, gifts can be given in the form of a box
Apparently 9pc, 12pc.. In this way, the more you buy, the more you get a little discount.
I think 12pc is a bit too much and 6pc seems like a little less, so I decided on 9pc which seems appropriate!

Other menus using macaroons were also sold, and as I mentioned earlier, cookies
A dessert cafe macaroon that also sells other bakery products .
I'm confused even though it says that the name of this is a macaron and that round thing we eat is also a macaron.
You can also enjoy macaroons with tea or coffee at the store like this.
I'm only going to buy it as a gift, so today's a pass.
In fact, rather than macaroons, I look at the other desserts displayed in the showcase next to it.
I don't think I've reached the point where I can enjoy macaroons alone yet
I changed my mind a bit when I tried the macaroons from this place.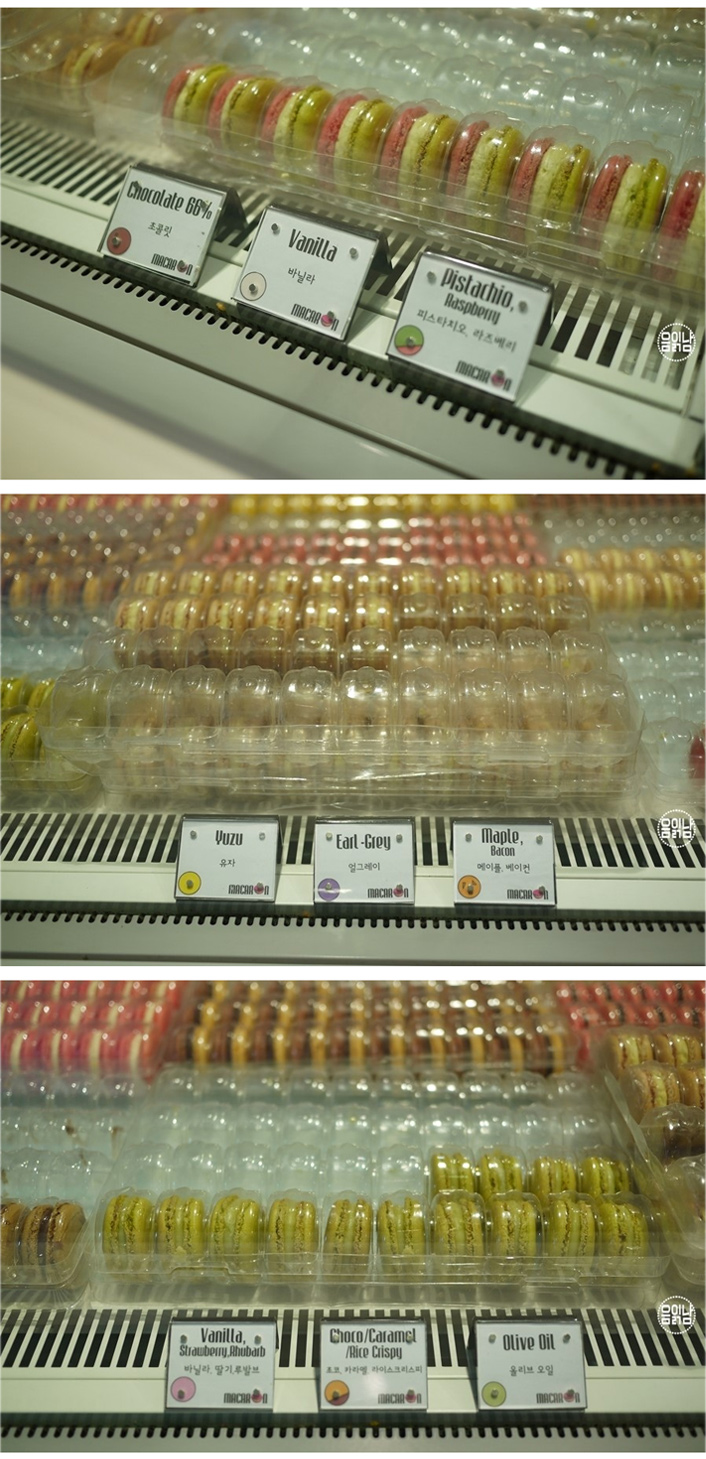 Types of macaroons/names
The characteristic of the macaroons here is that you can see many mixed macaroons,
Visually eating 90% or more of macaroons is what you eat, so the visual score is also a passing score.
There were 12 types in total, but I think macaroons with maple and bacon would be strange
Except for the 3 macaroons in that line, I chose the remaining 9 types of macaroons.
Accent the black paper bag with a pink string.
Because pink macaroons accentuate anyway
I feel like it would have been nice if the string was black.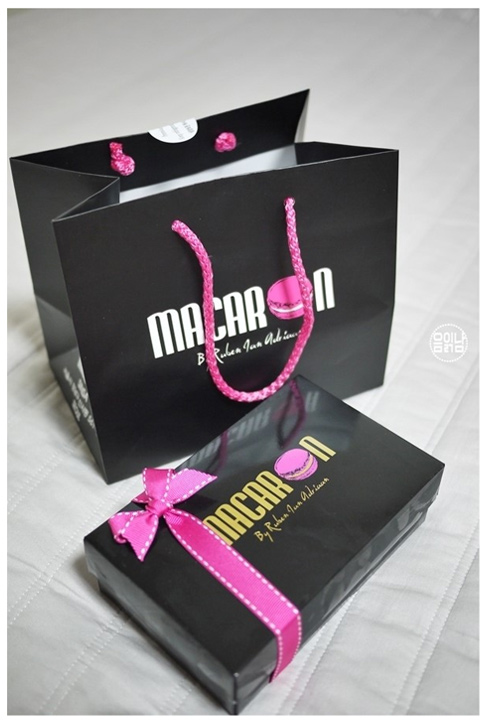 The box was more beautiful than I thought, so I felt fine,
Think carefully about the characteristics of macaroons that must be kept cold
They put in an ice pack.
Thanks to this, I was able to keep the macaroons cold for about 2 hours.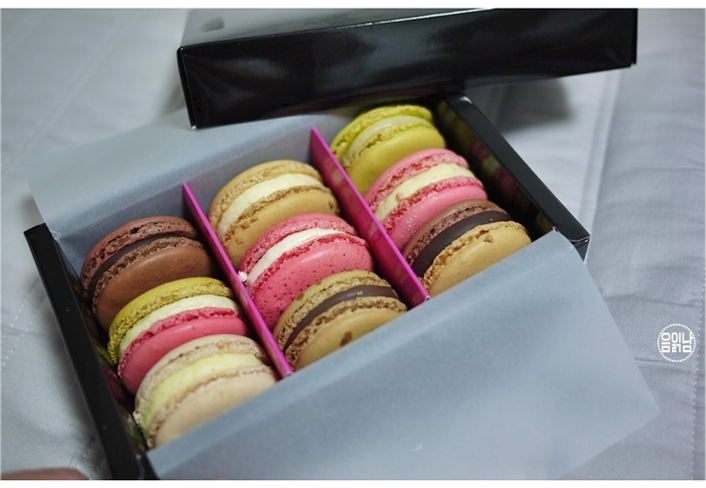 The shape of a colorful, beautiful, and beautiful macaroon.
I was so proud that I tried it as a gift for the first time
I'm proud to say that I'm this kind of person.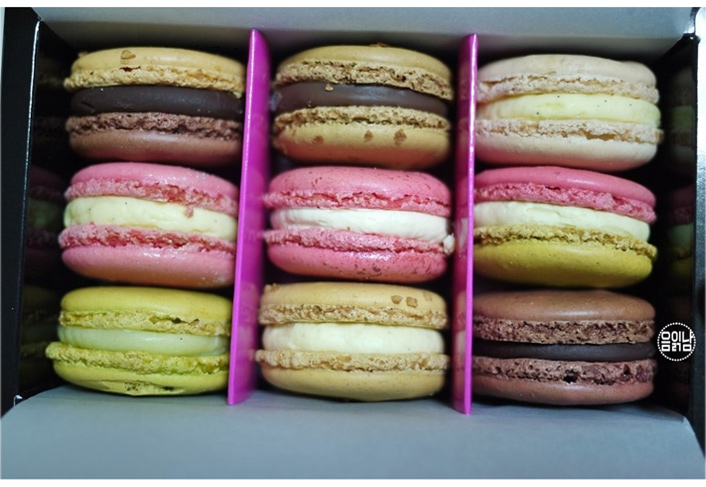 It's impossible for me to list the names of all 9 types of macaroons one by one…
The first thing I noticed when I opened the macaron box was that it was colorful and didn't look hard.
However, when I eat macaroons, I personally prefer soft macaroons because
Visually, I passed!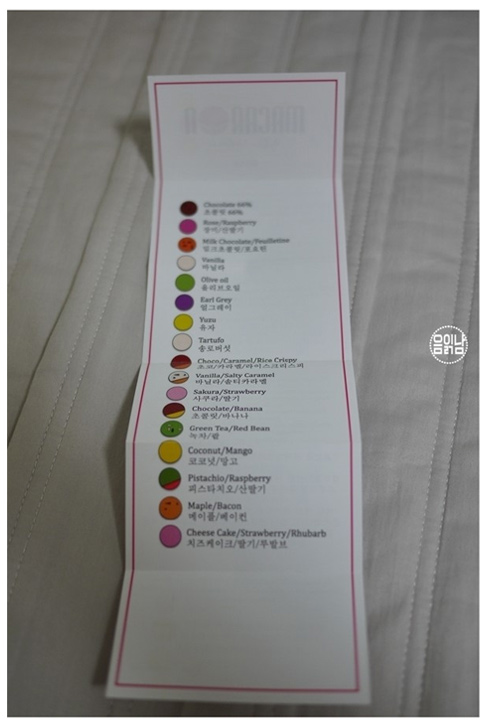 The one that came with the gift box is a kind of manual that tells us what macaroons we eat.
You can find out what's in it, so I think the process of guessing the flavor by first eating it is fun.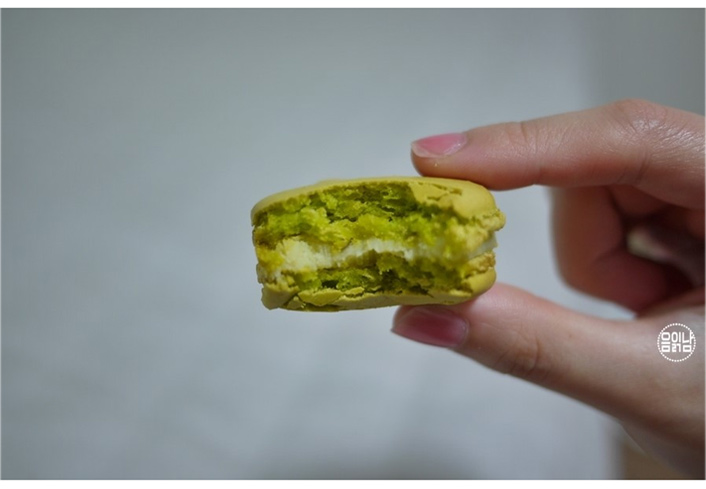 The Ladurée macaroons I bought and ate in Paris honestly didn't suit my taste.
I felt that the macaroons from this place were rather delicious to me…
Does this make me a macaroon holic now…
These green macaroons are olive oil!
Strangely enough, I was able to really enjoy the rich aroma of olive oil, and I liked the sweetness.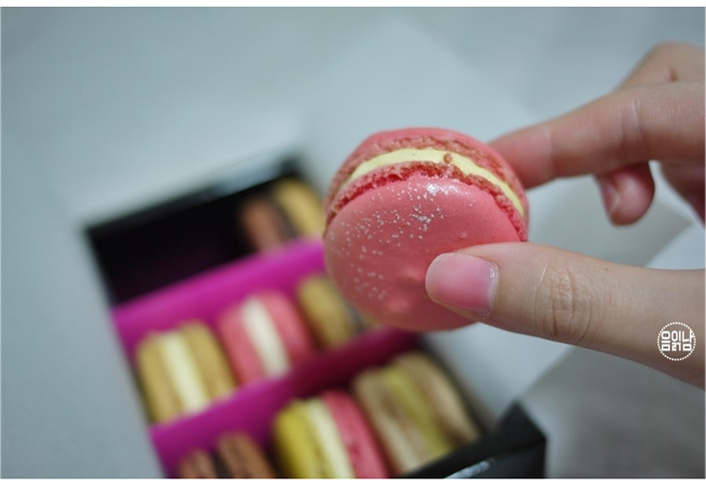 Rose/ Raspberry
Strangely enough, the scent was so strong that I could notice that it was really a rose scent.
Along with the fresh strawberry scent, it boasted a fragrance just like the smell of spring.
Fresh raspberries are hidden inside.
It's also fun to try to match the ingredients and flavors by referring to the pictures in the description.
This is a perfect place for those who like soft macaroons rather than hard macaroons.
Hongdae Macaron
(Men, take this opportunity… I hope you can develop your relationship by gifting macaroons this fall..)